A Brighter Mood in Atlanta
Posted on 
January 31, 2011
 by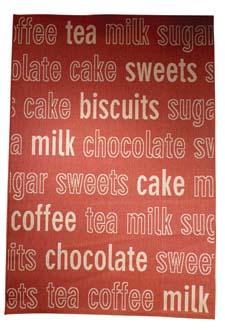 Several companies got wordy with patterns, including Dynamic Rugs, here with a pattern in its Trend flatweave collection.
By Andrea Lillo
For the rug category, 2011 looks bright--as well as gray, as those were the two color directions patterns took at last month's Atlanta International Area Rug Market.
Contemporary styles, having taken a back seat to traditional when the economy faltered, seemed to come out of hibernation. Manufacturers took this as a good sign, and higher price points are also seeing more movement, they added.
Many people and products that headed to Atlanta for the show faced severely hampered travel to and within the city initially, due to sub-freezing temperatures, ice and snow. But stories about dedicated attendees and manufacturers surfaced. With flights into Atlanta halted or limited at times, some people flew to Savannah, Ga., New Orleans, or Florida, and then drove to Atlanta to make the show. Others took the train to the Amtrak station in Atlanta, and then walked through the snow to the MARTA station to make it in.
"That's dedication to this industry," said Chas Sydney, senior vice president, area rugs, AmericasMart, during the America's Magnificent Carpets Awards on Jan. 15.
At market, Safavieh debuted its comprehensive collection with Ralph Lauren Home. Under the Ralph Lauren Home brand, 25 patterns debuted; most were hand-knotted styles, but also included hand-hooked, flatweaves and leather patchwork designs. Retails ranged from $2,000 for a 5-by-8 for either the Rhodes or Kenya pattern (both of which are organic hemp and jute hand-knotteds) to $12,960 for a 6-by-9 of the Richmond design, a hand-knotted style in a Heriz Persian weave. The Lauren Ralph Lauren group contained 15 patterns, including hand-knotted, flatweave, sisal weave, hand-tufted, hand-loomed and power-loomed constructions. Retails ranged from $960 for a 5-by-8 Shoreline Stripe, a jute and cotton flatweave, to $2,880 for a 5-by-8 hand-loomed Beckett pattern.
"We grouped the rugs by story, not by method," Stephen Earle, senior vice president of design, Ralph Lauren Home, told HFN, using the lifestyle groups its other home furnishings lines fall into. "Ralph Lauren is a great brand because it all weaves together." Patterns were also adaptable to many interiors, for example, the line included Western styles, which can be used in modern lofts, he said. "[Ralph Lauren] loves the West." Many patterns were "evocative but not literal," he added, such as one pattern reminiscent of snowflake sweaters.
"It was one piece of the puzzle that hadn't been completed," Earle said later at Safavieh's ribbon-cutting event for the Ralph Lauren section. The Ralph Lauren consumer is very loyal, he added. "People don't accidentally buy the brand. There's already a customer out there ready for these things."
Shaw Industries debuted its HGTV line of flooring, and the area rugs under Shaw Living were seen in Atlanta. There are 26 nylon designs and 20 PET designs available. The nylon rugs can be recycled after use, and the PET rugs are made from recycled water bottles, so "each has a green story," said Kim Barta, brand manager for rugs. The designs are a mix of modern and transitional styles--including flowers and stems, overscaled paisleys, geometrics and an animal patchwork - "because that's the HGTV consumer." Available in April, the nylon rugs will retail for $579 for a 5-by-8, while the PET styles will be $329.
Overall at market, color split into two directions: the gray tones and the brights, sometimes in unusual combinations. Sophisticated grays continue to dominate the neutral palette and many new patterns reflected that.
Brights were also important. "There was a call for bright colors," said Wendy Reiss, key account manager of sales and marketing, Kas Rugs, said of Sonesta, a hooked polyester line with vibrant designs. "The polyester takes color very well as well as brings the price point down."
Momeni introduced Honeysuckle--Pantone's color of the year and a bold hot pink hue--in its Comfort and Luster shag lines.
And while consumers tended toward traditional looks when the economy tanked, now there is renewed interest in more contemporary looks. "If any category is growing, it's minimalism," said Alex Peykar, principal, Nourison, which launched its largest Calvin Klein release ever. "Traditional still sells strong but not as fast." And business is picking up, as retailers told him they had a good fourth quarter. "People are coming in and spending more; there's a reason to introduce new product."
While hand-knotteds have taken a hit over the last few years, it seems the category is reviving. Surya showed 15 new designs in its Mugal collection of "affordable" hand-knotteds, which retail for $1,200 for a 5-by-8 versus several thousand dollars for more traditional ones, said Al Mortensen, creative director. "People are getting more thoughtful with their spending."
Most of the orders Amici Imports wrote for the show were for hand-knotteds, said Charles Cashin, executive vice president, marketing and sales. "If we knew that was going to happen ahead of time, we would have brought more to market," he said. "The better goods did well."
Many companies bolstered their indoor/outdoor lines, which continue to perform well. Oriental Weavers' new Montigo collection "adds fashion to the category," said Aaron Gray, marketing director. In the past, the company offered two-color outdoor rugs; in this new collection, it now offers six colors.
Dalyn debuted its launch into indoor/outdoor; called Terrace, it was made of UV stabilized polypropylene and contained 23 designs.
Leather also made its way into a number of introductions. The Calvin Klein additions at Nourison included Canyon, which combined a cut pile viscose with a flat suede leather area for interest. Dynamic Rugs debuted Leather Works, a collection that included four leather patchwork patterns and five styles made of leather and wool.
And at Karastan, its new custom rug program allows consumers to make one of its Kara-Loc woven wool carpets into a rug with leather binding to add sophistication, or, if the customer prefers, 100 percent pure wool fiber serging for a more streamlined look. The leather bindings are available in five colors and one suede. Delivery is approximately two weeks for rug sizes 6-by-9 and 9-by-12, though custom sizes are also available.
Oriental Weavers also offered its first cross woven collection in a few years; called Odyssey, it has 18 patterns and looks hand made, Gray said. United Weavers also debuted a cross woven line called Horizons, made of a BCF fiber but with the feel of a heat set, said Diane Carleo, director, sales and marketing.
Due to the cost increases of cotton, 828 Trading showed its additions in its Siena collection in a polyester hooked construction. "It has the same decorative look for less money," said Tom Morris, national sales manager, 828 International Trading.
In AmericasMart's newly debuted Rug Temporaries section, Regence Home unveiled its machine-made area rugs. Known for bath and accents, the company wanted to expand its line, said Scott Carlton, vice president, sales and marketing. Its introductions included the high-pile Cumberland collection, made of New Zealand wool and retailing for $499 for a 5-by-8. "The area rug category is a heavily patterned business; if customers can feel the high pile and see the details, it fills a niche." It also showed Wellington, which had gun-tufted look in a machine-made, and Cheshire berber rugs in both solids and patterns. Brookfield is a woven polyester with an unusual soft hand, he added, and competes with olefin. "It has a sophisticated feel, and the fiber is unique to us."
The nonprofit organization GoodWeave also showed in the temporaries, where it announced two new rug partners: Kim Parker Home, which offers rugs from artist, textile designer and author Kim Parker; and Square Foot, which offers custom, hand-made rugs.
Video: Color Comes on Strong at High Point Market

   More Videos
advertisement
advertisement
Tweets by @HFNmag