Antique & Design Center Launches New Ad Campaign for High Point Market
Posted on 
September 13, 2013
 by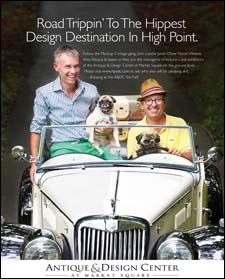 The Antique & Design Center's Road Trippin' ad
HIGH POINT, N.C.-For its newest ad campaign, High Point's Antique & Design Center uses one of its newest exhibitors--Madcap Cottage--to demonstrate the eclectic mix of vintage and one-of-a-kind modern designs its 65 exhibitors offer at market. Called Road Trippin', the campaign shows Madcap founders Jason Oliver Nixon and John Loecke driving to High Point Market in vintage style, with their pugs Weenie and Amy Petunia acting as driver and navigator. Madcap Cottage is known for its home decor line that mixes tradition and whimsy, usually with a bold dash of color. The ad will be seen in the High Point Market Designer Preview Guide as well as other promotional items and through social media.
The ADC's line-up of social and educational events will also tie into the campaign, with a Road Trippin' event at 7 p.m. on Saturday, Oct. 19, in the Market Square Courtyard to kick things off. Celebrating classic designs through the decades, the party offers music from the 1930s to the 1980s, and will also feature vintage cars and furnishings from past to present.
In addition, Nixon and Loecke will take part--along with Coco + Kelley Founder Cassandra LaValle--in the presentation, "A Trio of Design Mixologists Shake, Stir and Pour a Cocktail of Delicious Interiors,"on Oct. 20 at 3:30 p.m. at the ADC.
"We know our venue is the design destination at the High Point Market," said Karen Luisana, founder and managing director of the Antique & Design Center. "We wanted our new campaign to feature the fun and adventure that is also part of the ADC. Our market guests love that sense of discovery they get when they shop our incredible exhibitors. They know they will find amazing vintage and modern designs and antiques here, things that they cannot find anywhere else at the High Point Market."
Open on the ground floor of Market Square, the Antique & Design Center will be open for market Oct. 18-24. There are 50 free customer parking spaces on 316 W. Commerce Ave., and there is a packer and shipper on site.
Video: Color Comes on Strong at High Point Market

   More Videos
advertisement
advertisement
Tweets by @HFNmag