ART to Offer Incentives, Networking in Vegas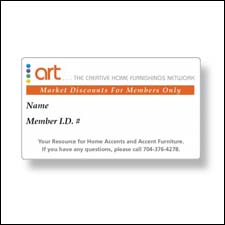 LAS VEGAS-ART will again offer its ART Card program at the upcoming Las Vegas Market, offering exclusive market specials and promotions to retailers who are ART members. Seventeen vendors are taking part this market--including a new vendor, Couture Lamps, and a new location for GuildMaster. Retailers who want to participate must show their ART cards when ordering.
In addition, along with International Market Centers, Gift & Home Trade Association, Gift Sales Manager Association, Holiday Decor Association and Young Gift Executives, ART will host a networking event on Tuesday, Jan. 28, from 5-7 p.m. at OneSix Club, Building B, Floor 16.
The participating vendors and their deals are as following:
?Artisan House (B-354): 5 percent discount on all orders; must present the ART card
?Classic Home (C-309): 5 percent off market orders, can be applied to show promotions
?Couture Lamps (C-496A): 10 percent off orders of $1,000
?Feizy (C-399): 10 percent off orders, cannot be combined with other offers
?Foreside (C-688): 10 percent discount for market orders
?GuildMaster (C-324): 10 percent off orders of $2,000 and over
?Howard Elliott (A-332-334): an additional 5 percent discount on any confirmed show order of $1,000 or more; valid in addition to any other show specials or promotions offered during market
?IMAX (A-429-431): an additional 5 percent off
?Light & Living (C-379): a 10 percent freight cap within the contiguous U.S.; ART members must tell the order writer to add into the order notes that they are a member and to apply the freight cap
?Loloi (B-476-480): a $300 Amazon gift card with purchase of $5,000 or more; gift card will be sent 30 days after complete shipment
?Pacific Coast Lighting (A-301): full freight allowance within Continental U.S., MOQ $1,500; current items only, order for immediate release and cannot combine with any other discounts or promotions; must indicate promo code #0088 on order
?Paragon (B-301): a 5 percent discount of orders of $1,000 to $1, 999; orders of $2,500 and more receive a 5 percent discount, free freight and a choice of mirror #8854 or #8604
?Phillips (A-202): an additional 5 percent discount on any show order, valid in addition to any other market promotions or discounts
?Propac (B-301): free freight for orders of $2,000 or more
?Surya (C-400): 10 percent discount on any show order; must show ART card
?Uttermost (B-400-402): free freight on orders of more than $1,000 for continental U.S. ART retailers
?Wendover Art (B-306): standard free freight on orders of $2,500 or more
advertisement
Video: Color Comes on Strong at High Point Market

   More Videos
advertisement
Tweets by @HFNmag