CCA Global Partners Launches Just Shorn Brand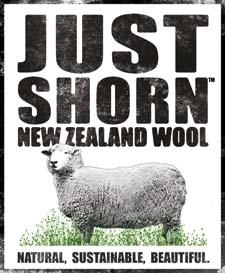 ORLANDO, Fla.-To help bring awareness to the use of wool in carpet, CCA Global Partners recently launched an exclusive wool collection called Just Shorn to Carpet One Floor & Home, Flooring America and Flooring Canada and ProSource members this summer.
With products made of New Zealand wool, the brand is a result of the company's partnership with New Zealand-based Elders Primary Wool. Just Shorn was first introduced through CCA Global Partners' luxury retail group, the International Design Guild. Now the brand is expanding to CCA Global's other flooring divisions, and will be introduced into stores this winter. The new line will offer consumers more affordable wool flooring options than what is currently available; some of the Just Shorn wool products will be equivalent to high-end nylon in price point, the company said.
In 1960, wool was the dominant fiber used in carpet and rugs in North America; in 2011, it was down to two percent of the market, CCA Global said in a release. The company hopes to reverse this trend and increase the purchase of wool carpet with this new brand.
"We've worked hard to put together a line of wool carpet that is not only beautiful, natural and strong, but also affordable," said Charlie Dilks, chief product officer for CCA Global Partners.
Stuart Chapman Chairman of Elders Primary Wool, added, "We are excited to be working with CCA Global Partners as they are so influential in the North American flooring market. We could not have executed this initiative without them."
In addition to the line, CCA has developed display options for Just Shorn that feature the product attributes and tell the story of New Zealand growers and their passion for wool.
"I honestly think they are the most compelling flooring displays I've seen," said Theresa Fisher, vice president of visual merchandising. "They are original and the sampling concepts are innovative. Our intention is to immediately capture the attention of every customer who comes through the front door."
The Just Shorn brand has its own website at JustShorn.com.
advertisement
Video: Color Comes on Strong at High Point Market

   More Videos
advertisement
Tweets by @HFNmag