Colorful Collaboration: Oriental Weavers and Pantone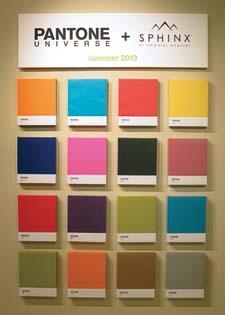 The Pantone collection will debut this summer and Oriental Weavers created a display in its High Point showroom.
By Andrea Lillo
Developing "a more serious licensing program in the U.S.," Pantone has partnered with Oriental Weavers for an area rug collection that will debut at the summer markets. Part of Pantone's Pantone Universe program, the line will be under the Sphinx by Oriental Weavers label and include about five collections in a wide range of constructions, from machine-made synthetics to handmade natural fibers.
"Rugs occupy a lot of space in the home, and they use a lot of color," said Lisa Herbert, vice president of consumer licensing at Pantone, so it made sense to step forward with this category under the Pantone Universe brand. And Oriental Weavers was a great partner for this endeavor, as it both is an expert in rug design and serves several markets, from mass to high end, she added.
"We're extremely excited about the partnership," said Andy Brumlow, vice president, product development, Oriental Weavers. "The rug business is based on color and who better to have on your side than Pantone?" Working with Pantone will provide Oriental Weavers with a wealth of color research--not only about what specific colors are hot but also color combinations, he said. "Pantone really understands color."
Oriental Weavers' initial launch at the Atlanta International Area Rug Market and Las Vegas Market this summer will be under the Sphinx label and include some handmade items but mostly machine-made ones, with rugs being produced in the U.S., Egypt and India, Brumlow said. While patterns were still in development at press time, they will include a solid-color collection, he said. Designs will include a range of colors, including Pantone's color of the year, which for 2013 is Emerald Green, as well as Pantone's forecasted colors for the future. A 5-by-8 in the Sphinx line will retail for between $199-$499.
A collection under the Oriental Weavers brand for the mass market is also in development, and Oriental Weavers is working with other Pantone Universe partners on exclusive product, Brumlow added.
"The rug category is really tremendous," said Steve Goldberg, partner, KJR Home, LLC, which is Pantone's home licensing brand partner. Color and texture "are becoming more and more important in the home," and Pantone provides "a treasure trove for licensees."
Pantone's partners can not only take advantage of its color expertise and research, but also learn in advance its color of the year, which is announced in December, so that "partners will have product shelf ready," said Herbert. Launched 13 years ago, Pantone's color of the year has become "an explosive catalyst in every marketplace," said Goldberg. Emerald Green's announcement garnered 1.8 billion media impressions, he said. "It's really propelled the brand to get stronger among consumers," added Herbert, and "positions us well to build a licensing program."
Pantone Universe is found in thousands of store locations in the U.S., Herbert said. "We're one of only a few business-to-business brands that have migrated to become a business-to-consumer brand."
Two years ago Pantone's U.S. licensing program was really set into motion with its partnership with beauty retailer Sephora, Hebert said. More recently, J.C. Penney debuted its Pantone Universe bedding and bath collections, and Pantone just announced its new paint line with Valspar. More home licenses are on the way. "We're looking at all different elements in the home," Herbert said. Pantone Universe helps consumers "connect the dots through Pantone."
"We always felt that Pantone Universe lent itself to the home," said Herbert. By offering products that are color right, "it helps consumers step out of their comfort zone," and to use colors and color combinations that perhaps they haven't thought of before. "We don't want to live in a vanilla world."
advertisement
Video: Color Comes on Strong at High Point Market

   More Videos
advertisement
Tweets by @HFNmag