Getting Hot for Hemp and Jute
Posted on 
November 6, 2012
 by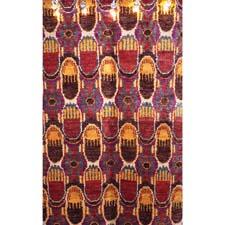 Rugs America showed its first jute collection, called Moroccan, with nine designs. rugsamericacorp.com
By Andrea Lillo
Not only have the natural fibers of jute and hemp returned, but High Point Market introductions showed an upped level of sophistication this time around, with colorful designs and chunky textures.
Ideal for those design-oriented consumers who want a feel of nature indoors, hemp and jute collections were among the standouts at market, whether showcased alone with trendy patterns such as ikats and geometrics or mixed with other fibers such as chenilles.
These natural looks fit the profile of the eco-friendly consumer, said Amy Archer, director, product and development, Surya, which launched the new Columbia collection. Handwoven of jute in India, it's "a sophisticated introduction of natural weaves," in such designs as suzani, ikat and geometric. It shows that "it can still be organic, yet ramped up."
With these types of fibers, "it's all about texture; it's all about a natural feel," said Kavita Chaudhary, design director, Jaipur, which debuted its new accent rug category at market, using jute paired with other fibers such as chenille and rayon. The new group offers an affordable look that can be placed in a number of interiors, from casual to modern, she said. Centered around four color stories, it also had a coordinating pillow collection.
The new category "is very much a natural extension to our overall natural category where we have a very big presence," said Josh Roberts, vice president, sales and marketing, Jaipur. "It is also a segment that is a very good fit for our customer base and it provides them with more solutions for their customers." Slightly bigger than a 2-by-3 size, the new accent rugs can add a lot of "pop" to the in-store environment and can be a quick impulse purchase, he added.
The natural rug designs in Uttermost's brand new rug category were among the rug hits at market. "Naturals have done especially well," said Mac Cooper, president, including Tobais, a recycled leather and hemp item, as well as Barhara, a reversible hemp and cotton chenille design. Other designs included Bengal, a jute handwoven rug in three colorways, and Bali and Java, handknotted jute products with ikat designs.
Rugs America debuted its first jute collection at market, called Moroccan. "We liked the look; we liked the texture," said Ariel Hakimian, vice president, sales. "It's something new." The new group has nine designs.
Feizy prints onto jute for its new Moneta flatweave collection, made in India. It's been about five or six years since its last jute introduction, said Cameron Feizy, senior vice president, and this particular collection was in development for a while to get the shading of the designs correct. Initially in five designs, the collection will expand at Las Vegas Market in January.
Kas also has introduced seven new natural collections. "Naturals were one of our top categories a number of years back," said Wendy Reiss, key account manager of sales and marketing, and they have now come back into popularity. "The product we are bringing to the market is exciting and different--more depth, texture, and 'chunk' to the overall pieces." Most of the items have jute and many are very soft, she added. One of the company's new lines is the jute herringbone, which will begin shipping in January. In six colors, the handwoven collection has a herringbone weave and is available in scatter to large room sizes.
advertisement
Video: Color Comes on Strong at High Point Market

   More Videos
advertisement
Tweets by @HFNmag