Hand it to Handknotteds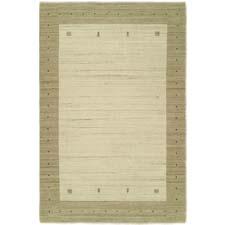 By Andrea Lillo
Like so many other home furnishings categories, handknotted rugs have seen a subtle shift lately, as cleaner designs and more up-to-date colors have evolved to satisfy today's consumer. Though traditional is still an important part of the business, transitional continues to make headway.
What worked before in this category is not necessarily going to work today, manufacturers say. This area has evolved with the times, and for some manufacturers business has remained steady.
For example, Capel's handknotted business has remained fairly strong, said Tami Watras, vice-president, product and creative director. What has changed is "the demand shifted in terms of color and design but we were able to meet the need by offering a more updated transitional look," she said. "As a matter of fact, one of our current top sellers is a handknot that debuted in the last two years. It comes down to offering a great look at a fantastic price."
At the recent High Point Market, Capel's one-of-a-kind handknotted rugs without borders were strong, said Allen Robertson, vice president of sales; "before, it was almost standard to have borders." He also witnessed more requests for larger-sized handknotteds, such as 10-by-14 and 12-by-15. "That's a big ticket item, around $10,000 to $25,000," and a sign of the category's strength.
As the handknotted business has faced a number of challenges, such as price point compression, increased labor costs and reduced production capacity, said Josh Roberts, vice president, sales and marketing, Jaipur Rugs, "you cannot rely on what you have done in the past with this segment. If you are serious about it, you truly have to bring stunning new products to market."
At this fall's High Point Market, Jaipur debuted a record 500 introductions, 100 of which were handknotted designs. "It's one of our big, big strengths," Roberts said.
And while the handknotted category has been around forever, its designs provide inspiration for today's industry. "I have observed over the years that it is the handknotted category that seems to drive the design trends in the rug industry," said Greg Jordt, executive vice president, sales and marketing, Harounian Rugs Intl. This includes the recent popularity of ikat and overdyed patch looks; before that it was the handknotted Tibetan and Nepalese styles that evolved into today's transitional category. And over the years the category has "gotten better and quicker at recoloring these various looks in order to coordinate with the current color trends in the U.S."
Harounian's foundation has always been in the handknotted category, Jordt added, and "one of the most exciting things in working within the handknotted category is the unique looks and trends that are developed when you take something old and make it new and fresh for today's consumer."
advertisement
Video: Color Comes on Strong at High Point Market

   More Videos
advertisement
Tweets by @HFNmag