High Point Market's Made in America Adds More Than 30 Exhibitors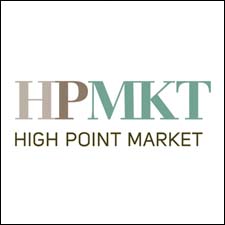 HIGH POINT, N.C.-The Made in America Pavilion has added more than 30 new exhibitors for this coming market for a total of 60 exhibitors in 25,000 square feet of space. Devoted solely to domestically produced goods, the pavilion is once again located on the first (top) floor of the Suites at Market Square and showcases a diverse mix of product, including case goods, upholstery, rugs, wall art and decorative accessories.
The new exhibitors are: AE Images, All Things Shaker, American Revolution by Amish Designs, Aquarelle Maison, Arthur W. Brown Mfg., Carolina Custom Iron, Cool Beach Products, Creative Solutions Group, Drum Works, engender Furniture, Graf Brothers, Guild Nines, Heritage Haus Furniture & Pottery, LLC, Home Furnishings Insurance Group, Keswick Candle Company, Lancaster Iron & Wood, McCoy Design, Napa East Collections, Out of the Blue Design Studio, Paddock Way, Peacock Decor, PS Mattress, Second Chance Art & Accessories, Simply Sedona, Solar Feeder, The Furniture Training Company, The Old Mercantile, Upholstery Studio Inc., VibaBody, Wellborn Industries, Weston Farms and Wood Graphics.
"As consumer demand for domestically produced products has grown, so has the Made in America Pavilion, which was launched just two years ago," said Julie Messner, vice president of leasing for International Market Centers, which operates the Suites at Market Square. "For many retailers and designers, offering domestically produced merchandise has moved from a trend in the marketplace to an absolute expectation by their customers to present American-made options. This carefully dedicated area in the Suites at Market Square allows that sourcing to happen effortlessly. And while these suppliers may share an "American-made story," the products that buyers will find here are truly unique and offer a more global sensibility. The broad range of companies in terms of styles, design and price point is really exceptional."
advertisement
Video: Color Comes on Strong at High Point Market

   More Videos
advertisement
Tweets by @HFNmag