Looking Back at 2013
Posted on 
November 27, 2013
 by 
Rug companies reflect on the year's highlights
By Andrea Lillo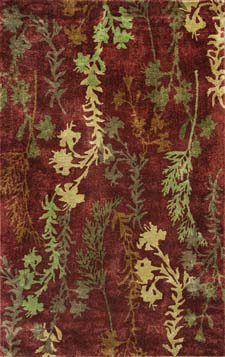 Kas Rugs expanded its line this year with higher price point rugs and retailers reacted positively. This design is from the Chanteuse viscose collection, which has a suggested retail price of $799 for 5-by-8. kasrugs.com
As 2013 comes to a close, it's natural to reflect on what went well for the year--and what was a teachable moment. For the rug industry, companies felt more comfortable trying new things this year than they have in the past, as the economy slowly recovers.
Broadening price points--both up and down--adding new categories and bolstering manufacturing or showroom space--were mentioned as positive spots for the year.
"We always believed and knew that anything that goes down must come up and that was true about the economy," said Alex Peykar, principal, Nourison. "Unfortunately, the turnaround time took longer than everyone expected." His company used the downturn to increase its manufacturing investment, preparing for when the economy improved, and it paid off, he said. "This did help us a lot during 2013 as well as going forward as we have increased our capacities as well as creative ways of making product lines that were never done before."
Nourison also looked to increase the average price ticket and "stop creating lower and lower price point rugs," said Peykar. "That helped the overall performance for 2013."
Kas Rugs also took a "risk" in price points and designs as well. "We decided to not be afraid of higher price points, and then created and brought looks that were unusual, different and innovative," said Wendy Reiss, vice president, key accounts. "The customer reacted--and reordered. It worked."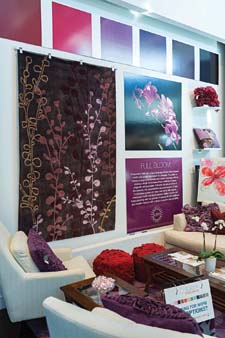 Surya integrated its product lines according to lifestyles and color stories this year, and which are shown in vignettes in its showrooms. surya.com
Amer Rugs found success the opposite way--by expanding into lower price point rugs. "The introduction of these price points has allowed Amer to leverage its wisdom and youthful energy to penetrate into that portion of the market in a very short amount of time," said Bart Gilleland, director of operations. "Being the manufacturer has distinct advantages, and our agile response to the needs of our new client base in the lower price point markets has been well-received by those buyers."
For Surya, one of the most important things it did this year was to integrate its product lines according to lifestyles and color stories, and with a variety of price points within each, said Satya Tiwari, president. "This has enabled us to 'connect the dots' for our customers, making our products more shoppable and simplifying the design process." Surya also developed solutions and sales tools for retailers to help them more effectively market and sell rugs and accessories, he said.
Safavieh felt there would be "tremendous growth" in the home area at retail in the fourth quarter, so it "prepared by ordering huge amounts of inventory with stock positions well above 2012 for the same period," said Arash Yaraghi, a principal at Safavieh. "Our investment paid off, and orders from all retail channels have increased significantly. We outdid our expectations."
United Weavers found success this year by adding more licenses and broadening its design base, said Diane Carleo, director of marketing and sales, United Weavers. The result "gave existing qualities a much wider appeal to more customers. We also became more aggressive with trying different qualities and honestly let customers know we're testing the market."
Loloi recently debuted a new category -- decorative pillows -- and "the reaction at High Point Market was overwhelmingly positive," said Cyrus Loloi, company executive, Loloi. "We're looking to grow our selection in that category exponentially heading into 2014."
Of course, companies always have a few things that perhaps they would have done differently, but they provide an opportunity to learn from for the next time. Loloi's 2013 catalog wasn't ready for customers until April, Loloi said, making it difficult for buyers to stay up to date by just going onto its website. So for next year, the catalog will be released earlier. "We're working on our 2014 catalog now, and it should be ready for customers by January 2014," Loloi said.
Surya significantly expanded its showroom space this year, Tiwari said, and, "in hindsight, I would have expanded our showroom space much sooner because the added square footage has enabled us to showcase our products in a more visually engaging and impactful way--helping retailers and designers to better understand the breadth and depth of our product offerings while also providing new and interesting merchandising ideas. "
United Weavers' Carleo, said that the company dropped its throw business. "We refused to offer cheaper product and was surprised to hear how much the throws will be missed."
Video: Color Comes on Strong at High Point Market

   More Videos
advertisement
advertisement
Tweets by @HFNmag