Manufacturers Get Down to (Sample) Size
Posted on 
November 1, 2010
 by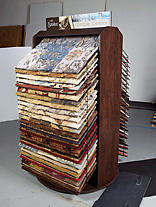 By Andrea Lillo
When it comes to helping retailers sell rugs, manufacturers have concentrated on a new concept: Think small.
Manufacturers are increasingly offering displays in a compact footprint that showcase anywhere from 20 to almost 100 rug designs in sample sizes. Whether for stores with limited floor space, or even for designers who need to pull out samples to compare colors with upholstery or fabric, these displays are an ideal alternative if full-sized rugs can't be displayed or stored.
"Retailers of all types can use a display as inventory investment is getting tougher and tougher," said Josh Roberts, vice president, sales and marketing, Jaipur. "Manufacturers have to become innovative."
Jaipur has recently debuted its new modular rack system, which comes in different configurations to hold 50, 20 or 15 14-square-inch samples. Retailers have more than 100 rug designs to choose from, and the complete designer rack, which comes stocked with 50 samples, a center unit and two wing units will cost $2,999, though Roberts added that "as retailers drive sales, we'll rebate the cost back. We're working with retailers." It's been very well received so far, Roberts added.
Jaipur is already working on another display program with higher price points that will debut next year, Roberts added. With these displays, "the profit per square foot is tremendous," he said. "Retailers consider space as a premium so it has to turn."
But not every style of rug works in sample size, Roberts points out, as traditional rugs--because of their borders, fields and complexity--"are harder to do in this type of display," he said. "Samples work best with solid, transitional and modern looks."
Surya debuted a modular display system last year, but recently came out with the Design Studio that "has a bigger presence," said Seth King, vice president of sales and marketing, and holds 96 rug samples.
"The days of the racks are not gone, but people need to supplement it," King said. Available in 150 of its best selling rugs, samples each come with an image of the full-sized rug, a room scene, additional colorways and sizes. Design Studio costs $3,500, though retailers who place an $8,000 order with Surya get a free display, and those who put in a $4,000 order can buy a display for half off.
Not only do displays work well for retailers such as furniture stores and design firms, but interior designers, too, said Aaron Gray, marketing director, Oriental Weavers. "The swatches are a great size that can be easily carried to match furniture, furniture swatches, drapes, and other accessories," he said, as well as by interior designers at the job site. Oriental Weavers' new display unit, called the Designer Showcase, can be set up against the wall or as a three-sided freestanding display.
Taking up 11 square feet of floor space, the Designer Showcase display holds 60 18-inch-square swatches plus the full line Sphinx Catalog, Gray said, and retailers can select which designs are displayed from more than 160 swatches. The back label of each sample lists product information and an image of the full-sized rug.
Kaleen's new Sample Centre has also recently debuted, offering retailers its top 50 sellers in 2-by-3-foot sample sizes in a four-foot-square rotating display. It will cost $1,200 (including samples), though Kaleen will rebate the cost back to the retailers depending on its sales, said Joe Barkley, executive vice president.
And now customers of Loloi can also take advantage of its new rack system, which holds 20 two-by-two samples. At a cost of $1,000, the display comes with the samples.
Shaw's first computer kiosk, which debuted earlier this year, is now in 350 stores, and another shipment is going out this fall. With it, customers can search its catalog of 5,500 SKUs by style, color or other criteria.
advertisement
advertisement
Tweets by @HFNmag