More for the Floor in 2012
Posted on 
January 4, 2012
 by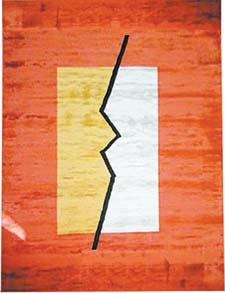 By Andrea Lillo
Rug manufacturers and importers bring their latest and greatest to AmericasMart this month at the Atlanta International Area Rug Market, debuting numerous new collections, colors and price points, as well as a few new showrooms.
But for 2012, the focus for the rug industry--as with other home furnishings categories--will be to continue to adjust to consumers' new way of thinking--spending less money.
"People just do not have the disposable income they did in the past--affluent, middle class and poor alike," said Mike Riley, president, Oriental Weavers USA.
"In the rug industry the biggest challenge we have on the wholesale side is oversupply," said Riley. The consumption of both area and accent rugs has dropped significantly since 2007, he said.
The rug industry is "competing with 50-inch flat screen TVs that retail for $499 and sofas for $399," said Steve Mazarakis, vice president, rug division, Linon Home Decor Products. "It's very hard to sell a 5-by-8 rug for $499."
When higher-end companies that offer fine handknotteds and high-end tufted rugs come with collections where a 5-by-8 retails for $199, "that speaks volumes to where the consumer has gone," Riley said. "We all have to have the breadth of assortment of fashion at the right price to convince them to spend their money on a rug."
Companies know that both retailers and consumers want to see new things. "We don't expect times to remain challenging. The time is now to launch new product," said Joe Barkley, executive vice president, Kaleen.
"We have to continue to provide better-looking product for less money," said Mark Ferullo, vice president, Rizzy Home, and he's seen people begin to trade up to the higher priced goods recently. In addition, "I'm enthusiastic about handknotteds [for 2012]; people are understanding them."
One of Rizzy's introductions at market will be Highland, a new handmade casual collection that includes tie-dyed looks. "It's very artsy," Ferullo said. There will also be new flatweaves, and new designs in its machine-made lines.
A long-time exhibitor at AmericasMart, Oriental Weavers will debut its newly renovated showroom at market, in space #3-A-2. It will also showcase Revival, a collection that takes advantage of the overdyed, vintage look. Colored in washed shades of aqua, plum, crimson and neutral grays, the rugs are designed with vintage Persian styling.
Among Linon's introductions will be Antique, which has a microfiber pile and a cotton backing, Copenhagen, a microfiber shag group with a two-inch pile, and Overdyed Patchwork, with three patterns.
Couristan is celebrating 85 years in business with its new machine-made Signature collection, which will pay homage to its early history importing fine Persian rugs. The collection's eight designs are influenced by historical artifacts and will showcase royal imperial motifs as well as nomadic tribal patterns. Featuring a 100 percent New Zealand semi-worsted wool pile with Couristan's locked-in-weave, Signature area rugs are cut with Couristan's crystal point finish, when the tip of the yarn is finished with a crystal-like point, and not cut straight across.
Kas Rugs will also be celebrating an anniversary--its 30th--and will debut more than 100 introductions at the show, including two indoor/outdoor collections and its Bliss Heathered collection.
Kaleen will unveil the most introductions ever in its history, Barkley said, with more than 100 new products. "We're relaunching a large segment of our line" -- 40 percent, he added, and including multi-purpose braids to high-end tufted product.
Orian Rugs will debut its new 6,500-square-foot showroom in #6-F-1 -- half of which will be dedicated to the Gallery collection, which targets the furniture, specialty and independent regional retail channel. Gallery will comprise 10 new collections for a total of 170 rugs in a variety of trend-right designs, colors, constructions and price points, as well as creative, consumer-driven merchandising concepts, said Mikala Moller, director of marketing. Show specials and incentives, including opening order discounts and free shipping for those who qualify, will also be offered to new and existing customers during the Atlanta market.
Surya will debut new designs in its Dick Idol, Country Living and Candice Olson collections, as well as show its new Angelo Home line from designer Angelo Surmelis. "Customers are looking for new designs with fresh colors as well as traditional and transitional designs," said Eva Di Adamo, head of product development.
Capel will continue to focus on its 'New Style Point of View,' which offers lines from Kevin O'Brien and more recentl
y, Genevieve Gorder, said Tami Watras, vice president-product and creative director. While it will still offers traditional product, the company also wants to "captivates a new younger consumer. [The new direction] has a young, hip mentality."
Millennium Weavers, a new rug company that is debuting this month at the show, has partnered up with LR Resources for area rug distribution. Showing in LR Resources' showroom, #4-F-3, Millennium Weavers will debut six collections at the show, as well as a new manufacturing technology.
Ebisons Harounian Imports expands its contemporary offering with the debut of Abstract, a fashion forward group of nine designs. The company gets a lot of requests for contemporary, said Michael Harounian, principal. "Last year we introduced a few collections in wool, both hand knotted as well as hand tufted, and they've done very well," he said. "We maintain a substantial inventory of contemporary goods now."
In its newly and expanded AmericasMart showroom, #5-F-1, Jaunty will offer its area rug sample program, where attendees can receive six handmade 18-inch rug samples, with more than 300 patterns to choose from, as well as its quick reference catalog.
advertisement