More on the Floor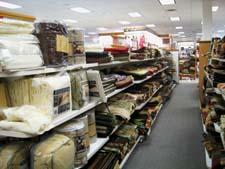 By Janet Herlihy
Corpus Christi, Texas, is basically a big, small town on the Gulf Coast. Retail-wise, shoppers here are grateful for what they've got, and when it comes to mid-tier department stores that consists of a single Kohl's, J.C. Penney and Sears.
HFN went looking to see how these three national retailers were selling kitchen mats, a category that combines practical comfort with an opportunity for fashion and even a little fun.
While the category was found in all three, only Kohl's was featuring an assortment from tufted scatter rugs to foam comfort mats in a display area clearly marked Kitchen Mats.
J.C. Penney has created its Home Store on its second floor where rugs of all sizes and types are displayed across from a home decorating service desk.
Located in an older mall, the Sears is not the best example of its kind, but did have a selection of accent rugs and mats tucked away on the second floor.
When HFN visited the stores in mid-February, all rugs were on sale. Prices given are the sale prices.
Kohl's
The newest of the three, Kohl's opened in 2003 at a busy intersection on the fast-growing south side of town. The L-shaped strip mall is named Kohl's Shopping Center and draws a steady stream of shoppers. The store is bright and neat, with relatively narrow aisles that are well stocked.
Only Kohl's dedicates an area strictly to kitchen mats and has the greatest assortment. The mats are grouped along a 45-foot aisle, sharing about four feet at one end with rug pads and furniture covers and ten feet at the other with more rug pads and doormats. Arranged on four shelves, the mats are stacked by size--smallest on the top shelf to largest on the bottom. The facing aisle is dedicated to accent and area rugs.
The assortment included several styles by Mohawk: a cut and loop nylon with a rubber backing, over-printed with kitchen patterns, priced at $29.99 in a 30-by-50-inch size; EcoCushion Mats of 100 percent viscose elastic memory foam, in an 18-by-30-inch size for $8.99. A selection from Maples was shown--all loop printed nylon styles in an 18-by-27-inch size for $8.99. Kitchen Flavors, mats made in China, were "handcarved," in 100 percent acrylic with a rubber backing and selling for $29.99 in a 27-by-45-inch size.
J.C. Penney
J.C. Penney was one of the original anchors at enclosed Padre Staples Mall when it opened in 1970. The mall was bought and renamed La Palmera in 2008 and has since received a major remodeling. J.C. Penney has likewise refreshed its two floors of departments, adding a Sephora on the first and reorganizing its home furnishings department under fresh signage as JCPenney Home Store.
Penney's displays mats appropriate for kitchen use along with accent rugs for the entire home on a 15-foot wall divided into three sections, each with six shelves, as well as on an adjacent 15-foot, four-shelf aisle.
Many accents/kitchen rugs carried the JCPenney Home label, including: an assortment of rubber-backed, nylon rugs in patterned loop styles priced in a 18-by-30-inch size at $7.99; and printed styles in Supriva nylon 6,6 by Invista in cut and loop constructions selling for $17.99 in a 20-by-30-inch size. More JCPenney Home products were shown on aisle shelves including solid color cut and loop, rubber-backed rugs of Supriva, in a 20-by-34-inch size for $12.99.
An assortment of reversible Cotton Shindi rugs by Park B. Smith made with "recycled surplus fabrics" were $6.99 in a 20-by-40-inch size. A group of multi-level loop styles in olefin from Bacova were $17.99 in a 20-by-30-inch size.
An endcap was devoted to Everywhere Rugs by Nourison, many of which featured kitchen patterns in 100 percent Duralon, a blend of acrylic and olefin, in hand-hooked constructions. Everywhere rugs were priced at $19.99 in a 20-by-30-size.
Sears
Sears was one of the original anchors at the Sun Rise Mall, about a mile away from J.C. Penney. This mall also includes a Burlington Coat Factory and a Dollar Theater.
Sears has done some reorganizing on its first floor and some of the home goods on the second were well displayed. Farthest from the escalator, a 30-foot wall of wire shelving, nine deep, displayed accent rugs and doormats with no department signage in sight. Divided into five sections, four of which offered accent rugs while the last held five shelves of doormats and the rest, more accents. There was a reasonable assortment of accent rugs and products suitable for the kitchen. A number of styles carried the Whole Home Sears label, including an all-loop construction in Supriva fiber by Invista with a rubber backing in six solid shades, and a cut pile in nylon with a printed border pattern, both priced at $13.99 in a 20-by-34-inch size. With a Sears Country Living label, a group of Chindi rugs were selling in a 30-by-42-inch size at $14.99.
Bordered jute mats with skid resistant backing by Cannon were priced at $14.99 in a 21-by-34-inch size. Labeled Colormate, a selection of bright prints with rubber backings, many with kitchen themes, on 100 percent acrylic cut pile were priced at $22.99.
advertisement
Video: Color Comes on Strong at High Point Market

   More Videos
advertisement
Tweets by @HFNmag