Nourison Spends Big on Infrastructure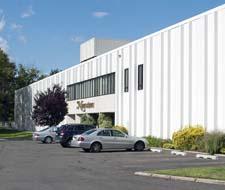 While no one has control over the uncertain economy, Nourison has spent the last year strengthening what it does have control over in house, putting millions of dollars into its infrastructure with the addition of looms and other equipment, as well as adding two new showrooms--in New York and High Point, N.C.--which open this month.
The company also announced its newest designer license--Joseph Abboud, which will debut at High Point Market.
In all, the company, which celebrated its 30th year in business last year, has "made the largest investment in the company's history" in 2011, Alex Peykar, principal, told HFN. "Our aim is to rock and roll during a time when it's hard to hear the music."
"The landscape of retail has changed," said Peykar, as the last few years has seen the disappearance of both retailers as well as other rug companies. As a result, it was important for Nourison to become more focused--both on the retail channels to which the company sells and within the company. To better address each of its product categories, for example, it created four divisions last year--one each for area rugs, home textiles, broadloom and hospitality--with Nourison Industries becoming the umbrella company. Hospitality and, under the home textiles division, decorative pillows are two of Nourison's newest categories, each at two years old, as the company has also expanded outside of its core area rug category to "give us more leverage."
The two new showrooms will allow the company to have a concentrated focus on the channels that visit those markets. The new New York showroom, prominently located on the ground floor of 295 Fifth Avenue and with 10,000 square feet of space, now puts Nourison in a better place to target the retailers that visit the New York Home Fashions Market, which takes place Sept. 19-23. It will host a grand opening event for the showroom on Tuesday, Sept. 20. In addition, the showroom will be open for this month's Metro Market Week, Sept. 12-15.
Then Nourison returns to the High Point Market on a permanent basis with a nearly 5,000 square foot showroom in the International Home Furnishings Center. Located in Interhall's IH 101, the space solidifies the company's dedication to carpet and flooring, home furnishings and furniture retailers. "We see that [retailers] want to go to one destination," he said, including such channels as the carpet and flooring retailers. "We will not walk away from that channel."
The celebration for the High Point showroom will take place on Sat. Oct. 22, during High Point Market, though the showroom will be open in time for premarket this month. The company also has permanent showrooms in Las Vegas, Atlanta and Zurich, along with its world headquarters in Saddlebrook, N.J.
Before Nourison is a jobber, an importer or a wholesaler, it is a manufacturer, Peykar said, "and we are as vertical as any other company at our level," with its own dyeing, spinning, weaving, tufting, designing and other functions. Part of this year's expansion included the addition of six looms--and not antique ones or someone's castoffs, he pointed out, but fast, state-of-the-art looms, and for different qualities. Its tufting facilities have also received brand-new equipment for fast speed, chromajet printing.
The overwhelming majority of its manufacturing still takes place in China, which has also become a growing market for it as well. While the market for domestic China was nonexistent several years ago, now it's about 10 percent of Nourison's business, "and we anticipate that will increase," Peykar said.
Nourison is fortunate to be able to expand in these challenging times to better battle the current business conditions, Peykar said, and he felt that the economy will bounce back eventually. "History has shown that America always becomes better; we'll get back on track."--Andrea Lillo
advertisement
Video: Color Comes on Strong at High Point Market

   More Videos
advertisement
Tweets by @HFNmag