Nourison's Fine Design
Posted on 
November 6, 2013
 by 
The company's designer portfolio keeps growing
By Andrea Lillo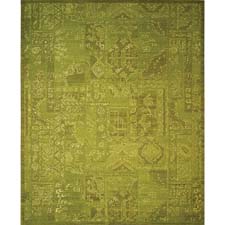 Silk Infusion, features silk accents and an intensive over-dyeing technique to create dimension. nourison.com
For more than three decades, Nourison has searched to bring new design and innovation to retail. Over the last few years, that has included bolstering its designer license portfolio, which now contains iconic brands, each offering the consumer a different viewpoint.
This comes as Nourison's Alex Peykar sees retailers' confidence returning after the economic downturn. Price points have also risen, he said, and the company is "enjoying a decent increase" in sales for the year.
Kathy Ireland's collection with Nourison, officially launched last month at High Point Market, is the latest designer license for the company. Within the past two years, the company has added three other renowned brands: Joseph Abboud in 2011 and Barclay Butera and Waverly last year. They joined Nourison's established Calvin Klein brand, which first launched at retail in 2002.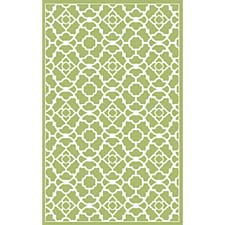 The Waverly collection includes the Fancy Free and Easy printed polyester washable accent line.
"While selecting our brands we are very careful and have succeeded in not overlapping looks, followers and price points," said Peykar, principal. "They all have their expected looks and perceived values."
The kathy ireland HOME line includes powerloomed and handmade area rugs, as well as accent and bath rugs and decorative pillows. "Kathy Ireland, while being new for Nourison, is absolutely not new to middle America given the many categories that she is well known for," said Peykar. "We have had a very good response from retailers that have seen the line. We expect a very good start and growth going forward."
Each of the licensed collections targets a different consumer, he said. Butera resonates with high-end consumers and designers, he said. "It does very well for us with a good growth promise." The iconic Waverly brand "as been very good for us in more of the mass market channels." And as for Calvin: "We have had the Calvin Klein license longer than the others and the fact that we have placement in many doors it continues to do well for us given the history behind it."
Julie Rosenblum, executive director of licensing, Nourison, added, "All of our licensed brands are very recognizable and have been carefully selected to represent distinct market segments, lifestyles and design. They each have their own space in the minds of consumers and do not conflict or overlap with one another, while complementing the Nourison brand."
As decorative pillows and accents are a natural extension to the rug category, the company launched the Mina Victory Home Accents by Nourison line, which is a subsidiary of Nourison, two years ago. The line includes decorative pillows and accents, and has been steadily growing since its launch.
Nourison also strives to grow its broadloom category, about 30 percent of its business, Peykar said.
In the retail landscape, though much has changed over the last few years, "fortunately, we are experiencing a gradual return of confidence in the retailers," Peykar said. "All indications point towards the economy and housing continuing to go in the right direction; along with that, we expect our industry to be part of that improvement and growth ... Nourison has invested a lot in creating increased capacity and infrastructure; we certainly are hoping to get our share of the increases."
Two such channels that are growing for the company are home furnishing stores and e-commerce sites. Whereas before, lower prices dominated throughout retail, "within the past 18 months we have noticed a definite turn from retailers as well as consumers that they do expect and demand better qualities," Peykar said. "Medium price range products have done the best for us," he added, though "entry-level consumers continue to buy the low-priced items also."
Like for so many other companies, China is still an important manufacturing country for Nourison, with about 80 percent of its products made there in its three factories. Years ago, Nourison invested in infrastructure to allow it to run its factories there, said Peykar. "Running handtufted or handmade factories is pretty much a thing of the past when it comes to China," he said. "Our handmade factory is one of the few that have survived due to the continuous support that we have given them, keeping the facilities open and running with orders that were sufficient to keep them alive." And that's even while China's new government regulations for the labor force resulted in higher production costs, causing other factories to close, he said.
Nourison also sources area and accent rugs in India, as they "are very competitive in price and perceived value," he said. The company has also started to source some synthetic area rugs from Turkey.
advertisement
Video: Color Comes on Strong at High Point Market

   More Videos
advertisement
Tweets by @HFNmag