Photo Finish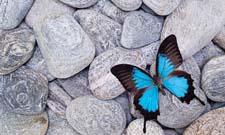 This nature scene from Apache Mills is one of its newest photorealistic rug designs. 401-830-5690
By Andrea Lillo
Stunning photographs used to be limited to hanging wall decor, but no longer. Photorealism has taken hold in the home furnishings field, and the rug category is no exception. Technology has allowed photographs to be transferred to products, bringing a real life look to the floor from the front door on in.
Designs can be as elaborate as a European landscape or a simple closeup of a basketweave. Overall, manufacturers site fruits and vegetables, coffee and wine, coastal and natural looks as among the stronger performing themes for this trending category. For doormats, the hot images tend to be of landscapes, florals, and stones, they add.
Photorealistic rugs "exploded in 2011," said Matt Murray, product manager, floor mat division, Mohawk Home, and the company has added quite a few this past spring. Mohawk Home also showed more masculine designs, recently debuting a "man cave" group of mats that target men, said Kelly Moore, general manager, floor mats, Mohawk, and which includes photos of basketballs and famous sports figures. They range from $19.99 at retail for a 20-by-30-inch to $39.99 for a 30-by-50-inch.
Concord Global Trading recently paired up with National Geographic to collaborate on a line using the images from the renown National Geographic archives. With some designs targeting adults and kids, the line includes mountain landscapes, closeups of rose petals and sand dollars, shots of zebras, lions and fish, animal skin patterns and even outer space.
"I love their photography," said Gulben Aksu-Bulat, vice president of Concord Global, of National Geographic. And the license is ideal for Concord Trading. "We wanted something different [to offer retailers.] It's not of damask or stripes -- it was something different for consumers." And in addition, she liked that net profits will go to support the nonprofit's mission.
Made of nylon in Turkey, Concord's line will retail for $249 for a 5-by-8; the kids' designs will be offered in three sizes: 3.3-by-4.7, 4.5-by-6 and 8-by-11. It's Concord's second license, following its MTA license last year.
This past spring, Apache Mills debuted a number of photorealistic designs, as this trend "will be very big," said Janice Young, design director. Steve Della Posta, senior vice president, added that combining the printing technology with molding can create a 3-D effect. Depending on the rug's thickness and softness, it can retail between $19.99 to $39.99. Because designs are direct printed digitally, the number of designs is limitless, he added.
advertisement
Video: Color Comes on Strong at High Point Market

   More Videos
advertisement
Tweets by @HFNmag