Playing a Supporting Role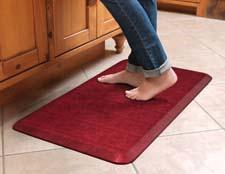 By Andrea Lillo
It's a feel-good category with a lot of potential in the home, and its supporting--and supportive--cast continues to grow.
It's the comfort mat group, and whether they are made of polyurethane, gel, rubber or another material, these mats have the attention of consumers--and their feet.
What started out as a high-end product several years ago has now blossomed down to the lower end as well, and in both the kitchen and bath. Manufacturers say that the category over the last two years has exploded -- estimates on memory foam mat marketshare for the bath category range from 10-20 percent -- and that's only the beginning.
"There is tremendous room for growth," said Dan Bouzide, chief executive officer, Wellness Mat, which uses a proprietary polyurethane for its kitchen mats. "When you look at the mass population, still only a small percentage have taken proactive steps to their own health and well-being. It would take years and years of tremendous sales growth and we would still only reach a fraction of the potential market."
Already well known in commercial and industrial settings, anti-fatigue mats are "relatively new in the consumer home market and offer an opportunity for educating the retail buyers of the benefits associated with a true anti-fatigue comfort mat for the home," said Philip Risk, CEO, Sublime Marketing Group LLC, which sells the Imprint mat brand.
Mohawk Home plans to focus on the memory foam area in both kitchen and bath this year. Last year, "everyone got into [memory foam]," said Matt Murray, product manager, floor mat division, Mohawk Home. "People see the value and are willing to pay for it."
At the end of the day, said Robb McMahan, founder of Let's Gel, maker of the U.S.-made GelPro mat, "there's nothing you can buy for [the kitchen] that makes you feel better."
Let's Gel was the first to bring an anti-fatigue mat to market seven years ago: a high-end mat with a gel core for the kitchen. This year, the company has addressed lower price points with its new New Life division, with four collections. While gel is a cushioning element that "lasts forever," McMahan said, it is expensive, so several of the products in the new New Life division uses a new plant-based bio foam, including the New Life Professional Grade mat (which starts at $69 for a 20-by-32-inch). This mat is also molded, a more expensive process than the cheaper method of cut foam, he said, but it allows for a more dense and supportive mat.
The new division will also include the new Designer Comfort Mats, which have the look of a GelPro mat and use high-end fabrics but is made of molded polyurethene foam ($39.99). Collegiate licensed mats of most of the top 50 sports colleges will be another line launching this fall.
For its final line, GelPro is also addressing what McMahan calls his biggest competition to his category: rugs. The company's new Ergo comfort rug combines a traditional tufted or woven rug with a 3/4-inch foam pad. "Literally, it is the most comfortable rug in the world."
The downside to using rugs in the kitchen is that they can stain easily and they slide around, McMahan said. "Rugs are not designed to live in the kitchen," said McMahan, and they don't have the comfort element.
The Ergo group will also bring Let's Gel into a new area for the company: the bath. McMahan said Ergo's kitchen rugs will be made of polypropylene while the bath will probably be nylon.
Apache Mills is another company that is expanding into the bath category, with its new OrthoSpa collection, which uses a new U.S.-made therapeutic foam that allows for direct printing and is also softer. The company bonded it to a bath fiber for a fully machine-washable bath mat. "It gives you all-day comfort"--unlike memory foam, with offers only "short-term comfort" only, said Steve Della Posta, senior vice president. The company is concentrating on decorative prints and sculptured looks for this line, as so much bath mats of memory foam are solid color, he said.
Apache Mills is using this same new foam in the kitchen, expanding its chef's mat collection. The ability for direct printing with this foam allows for limitless designs, said Della Posta. The mats can also be molded into raised designs, so designs can take on a 3-D quality about them as well, he said. A juvenile collection of bath and play mats using this therapeutic foam will be added in the future, he said.
Another mat maker that produces its product in the U.S., Wellness Mats added fashion to its line of polyurethane mats with the new Seasons covers, allowing users to be able to switch mat looks depending on the season or mood. In almost 50 designs, including chevron, mums, citrus slices and damask designs, Seasons fits all Wellness mats in the 2-by-3-foot size and will retail for $39.95 each. Made of crypton fabric, Seasons is stain-, spill- and bacterial-resistant and is machine washable.
And for those long kitchen counters or islands, Wellness now offers a new wider size and the new gray and black colors in its PuzzlePiece collection, which allows the mat to extend around a corner or go longer lengths with its puzzle piece ends.
Imprint will launch its new commercial-grade CumulusPRO line at retail this August. Made with a proprietary Cushion-Core technology, it is guaranteed not to lose support over time, and has a 10-year warranty. In addition, its Cumulus9 eco-friendly line, which is manufactured without toxic heavy metals, now has the crocodile pattern in three colors. Cumulus9 also has been refreshed with new packaging and a new look.
As chefs understand the long hours in the kitchen on one's feet, their endorsement brings an added benefit. Sleep Innovations teamed up with culinary icon Paula Deen for its new Paula Deen Anti-Fatigue kitchen mat, available in early summer nationwide. All the packaging will be branded Paula Deen, and the mats will be available in camel, sage, walnut and brick.
For Mohawk Home, "Even though we see the growth or volume leveling off incrementally, we are still positive about both categories," said Jeffrey Seagle, director of marketing and product merchandising, Mohawk Home. He added that one of the newest trends in memory are quicker drying foams. Murray added that the category offers so many price points now, as well as so many new designs and constructions, including faux leathers, chenilles and much more.
Video: Color Comes on Strong at High Point Market

   More Videos
advertisement
advertisement
Tweets by @HFNmag