Rug Ready in Atlanta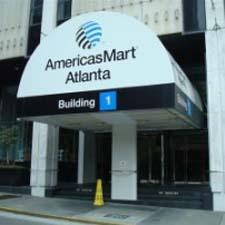 ATLANTA-It's time for the first Atlanta International Area Rug Market of 2014. Here are a few of the celebrations, launches and educational opportunities that are scheduled for the show, Jan 8-11. All are in Building 1 at AmericasMart unless otherwise noted.
Wednesday, Jan. 8:
2 p.m.: Designer Lotta Jansdotter will share her design inspirations and discuss her process with attendees, as well as answer questions at Surya. 11-A-1
3-4 p.m.: British interior designer and lecturer Henrietta Spencer-Churchill will present "Using Rugs and Accessories to Personalize Your Home." The first 25 attendees will receive a free signed copy of her newest book, "The Life of the House." Sponsored by Loloi. Floor 14, Seminar Room
3:30-5:30 p.m.: Couristan will host a party with designer Emma Gardner. Three emma at home accessory packages will be raffled off. 6-D-11
4 p.m.: Oriental Weavers celebrates its new Tommy Bahama license with a party in its showroom. 3-A-2
Thursday, Jan. 9:
9 a.m.-5 p.m.: A rug auction benefitting the Oriental Rug Importers Association (ORIA) and its charitable fund offers more than 20 rugs donated by ORIA members, open for bid Jan. 9-11. Floor 2
11:30-1 p.m.: Donny and Debbie Osmond will appear at a meet and greet in the Donny Osmond Home Showcase. Building 2, 1430
1:30 p.m. The Unique and Antique Rug Forum, sponsored by ORRA, is an informal presentation and discussion of antique and unusual Oriental rugs. 4-G-7
3 p.m.: Rug expert Phil Menendian will lead "Walk the Market with Phil," a walking tour of select showrooms for a more in-depth product look. Contact orra@orrainc.com to register. Sponsored by ORRA. Floor 2, ORRA booth
5-7 p.m.: Kas Rugs will officially launch its new decorative pillow and pouf category with food and entertainment in its new showroom. 4-C-9
5 p.m.: Loloi celebrates 10 years in business with a party, which will have music by the eight-piece band Glow, as well as catered food, wine and cocktails. 4-D-2
6 p.m.: Surya will host its market party. 11-A-1
Friday, Jan. 10:
9 a.m.-5 p.m.: ORIA's rug auction, open for bid Jan. 9-11. Floor 2
10 a.m.: A meet and greet with ORRA board members, including president Richard Amatulli and membership chairman Rob Leahy. Light refreshments served. 4-G-7
10:30 a.m.-noon: "Knot To Be Missed," presented by Phil Menendian and a panel of rug appraisers, will focus on a specific group of rugs. To register, contact orra@orrainc.com. 4-G-7
6 p.m.: America's Magnificent Carpets Awards, which recognizes the newest area rug introductions. Hyatt Regency
Saturday, Jan. 11:
9 a.m.-2 p.m.: ORIA's rug auction, open for bid Jan. 9-11. Floor 2
10 a.m.: AmericasMart's Breakfast of Champions, where attendees can enjoy both breakfast and the winners of America's Magnificent Carpets Awards. 4-B-1
Every day:
9 a.m.-5 p.m.: Attendees can enter the "Buyers Bonus Giveaway" for the chance to win an iPad mini daily. To be held on different floors each day--Floor 6 on Jan. 8; Floor 5 on Jan. 9; Floor 4 on Jan. 10; and Floor 3 on Jan. 11. Drop off a business card at the ballot boxes. The drawing will take place each day at 5 p.m.
9 a.m.-5 p.m. (except Friday, Jan. 10, 9 a.m.-noon): Museum of Introductions (MOI) Gallery, which showcases new product introductions in a sophisticated museum setting. Room 4-B-1
4 p.m. on: Kas will host a wine and cheese reception. 4-C-9
4:30-6:30 p.m.: Nourison will offer a reception with wine and hors d'oeuvres. 3-F-2
advertisement
Video: Color Comes on Strong at High Point Market

   More Videos
advertisement
Tweets by @HFNmag