Shag Revolution
Posted on 
December 9, 2010
 by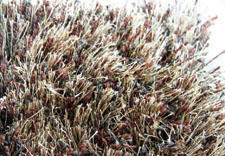 By Andrea Lillo
The shags of the 1970s have become a distant memory, thankfully, as the category has evolved to offer more sophisticated textures and colors for consumers, at a wide range of price points.
And consumers continue to buy them, so manufacturers continue to innovate in the category. Mixing fibers and/or colors, adding beads or other decorative touches, and incorporating designs have given this new generation of shags more surface interest while remaining an easy decorating solution.
Overall, shags are diversifying more--from low end to high, with different lusters, and more, said Andy Brumlow, vice president, product development, Oriental Weavers. "People want more options. People love how they are easy to maintain and have different textures. But color is the biggest draw."
One of Oriental Weavers' newest shag groups is Spectrum, which has two polypropylene fibers and, at a $299 price point for a 5-by-8, it fills the gap between the $199 and $399 price points for the company. Only 5-by-8 and 8-by-11 sizes are offered in Spectrum, though custom sizes are also available.
Shags' simple designs also allow them to be displayed at retail more easily. The stores only need one arm on a rack to display a full-sized rug with a color blanket when there isn't the room to stock more, said Reza Momeni, president, Momeni.
And the category continues to do well for Momeni. The company's Comfort Shag, introduced three years ago, is now the company's sixth biggest collection out of 75. Its Luster polyester shag is one of the latest additions to the category.
Even with all of the players in the shag category, "retailers and consumers are able to absorb it," said Josh Roberts, vice president, sales and marketing, Jaipur. One of the company's newest groups is Tribeca, a polyester shag with ribbons and beads that will ship next quarter.
"It's one of the biggest areas to address right now," Roberts added. "Americans love the softness and plushness." But the target group is more for a younger consumer: "At that age group, it's good for them to have more choices and styles to personalize their rooms."
Jaipur's shags hit price points of $299 and $499 for a 5-by-8, and another $299 line will be added next year.
"It's all about texture, color and comfort," said Pat Moyer, president, sales and marketing, area rugs division, Balta. "It can't have that old shag carpet look--it has to be more special." And Balta has more equipment invested in this category than any other, he added. Balta offers eight qualities, including polypropylene, polyester, as well as blends of the two.
One of Balta's newest groups is the Emerald shag, which combines a two-ply heat set yarn and a straight set yarn, with very fine strands of premium polyester fibers mixed in. Offered in 24 colors and eight sizes, a 5-by-8 will retail at $299.
Though Seth King, vice president of sales and marketing, Surya, is personally "shagged out," they keep selling, he said. It's a key category, and he sees the trend moving away from "traditional shags" to ones that have texture. "We continually to look for product with great texture and then we add in our Surya colors."
Shaw Living also added to this category this year with Artistry, made of both recyclable and recycled content. Offered in five colorways, with two colors in the yarn, a 5-by-7 will retail for $369.
This January, MAT will introduce its new lower-priced, contemporary line called MAT Orange, which will include geometric shag designs with cut pile fibers for interest. The line's price points will range from $99 to $399 wholesale.
Feizy also offers plenty of shags. In its three shag "workhorse" lines such as Moroccan Winds, "we've found that neutral colors work best as a rule, but there has also been a demand for funkier colors," said Leah Feizy, assistant to the chief executive officer, so the company has a custom shag program as well, so customers can choose their own colors.
Video: Color Comes on Strong at High Point Market

   More Videos
advertisement
advertisement
Tweets by @HFNmag