Surya Teams With Project Mala to Support 160 Indian Students
Posted on 
February 11, 2014
 by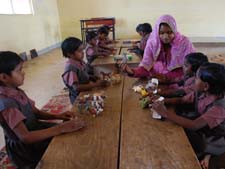 Pre-school children at one of Project Mala's schools.
CALHOUN, Ga.-Surya has partnered with international nonprofit Project Mala to sponsor 160 students in four classes at two schools in Northern India, an ongoing financial contribution that directly supports the children of weavers who live in the areas where Surya's factories are located. Project Mala provides education, healthcare, nutrition and other benefits to children who would not otherwise have the opportunity to attend school due to lack of resources and access to facilities. Surya's funds are allocated towards classroom education, uniforms, food and medical care, along with sports and cultural training.
"From humble beginnings of a single school with an enrollment of 100 children, Project Mala has grown to six schools with an enrollment of more than 1,500 children," said Neville Platt, trustee and administrator for Project Mala USA. "By giving children an education and valuable vocational skills, we are enabling them to reach their full potential and gain a future livelihood. Education is a crucial element in lifting rural areas out of poverty and we endeavor to do everything that we can to make a lasting impact on the lives of children and families in underserved villages in India."
Surya's founder, Surya Tiwari, began his career as a teacher and now uses Surya as a catalyst to promote education and social mobility within the company's weaver communities, the company said. "As a socially responsible company, we are passionately committed to contributing to the social and economic well-being of the people who reside in the areas in which we operate," said Satya Tiwari, president, and Surya Tiwari's son. "We are pleased to be partnering with this very worthwhile organization in its journey to further the education of children who will now have the chance to become empowered and productive members of their communities."
To date, Project Mala has enrolled more than 7,650 children from 80 villages, and more than 5,250 children have completed the three-year primary school course. In 2013, the organization achieved 93 percent average school attendance.
In addition, Surya also partners with Akshaya Patra to provide more than 7,300 underprivileged children in rural India with nutritious meals to help keep them in school, and works with East Meets West to sponsor 200 annual high school scholarships for Indian girls.
Video: Color Comes on Strong at High Point Market

   More Videos
advertisement
advertisement
Tweets by @HFNmag