Surya: The Sky's The Limit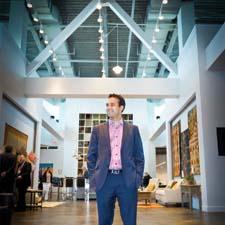 By Andrea Lillo
Growing up, Satya Tiwari had little interest in the family business. Now, after more than nine years as the head of Surya, Tiwari has transformed the company from being just one of hundreds of unknown area rug importers into a major source for home furnishings with an all-star lineup of well-known designers.
"After I joined the company, I realized that this is a great business," Tiwari told HFN at the company's corporate headquarters in Calhoun, Ga. "If you do the right things, there's a big reward."
Surya Tiwari, Satya's father, founded the company in India in 1976 and launched the U.S. division 10 years later. When Satya joined the struggling company in 2004, the company's revenue was $2.7 million. Under Satya's leadership, the company was up to $17 million in annual sales by 2007.
And this year's goal? One hundred million dollars "easy," Satya Tiwari said. "We've grown 37 times in 10 years. No one else is doing that. We're building a great company here."
Great--and growing. Tiwari believes that Surya can become a $1 billion company within the next nine years.
Surya's bread-and-butter category, area rugs, will top out at $250 million of that $1 billion, Tiwari said. Already in wall decor, poufs, throws, decorative pillows and, debuting at the most recent High Point Market, accent furniture, Surya sees itself as a home furnishings company, and new categories will continue to debut. About 65-70 percent of its line is manufactured in India, with another 15 percent from China. By 2015, the company estimates that about a quarter of its entire product line will be made in the U.S.
Business-as-usual is not how Surya wants to do business, executives said.
The company is constantly evaluating all aspects of the business to see where it can implement changes to drive revenue.
"We're constantly evolving," said Seth King, vice president, sales and marketing.
Surya views designing rugs as part of a bigger role to help its retailers grow their business. That's what King discovered years ago when he was an independent sales rep in the Pacific Northwest: "I realized my job was not to sell rugs, but to help [the retailer] sell rugs." At Surya, that includes learning as much about a retailer as possible and recognizing its needs, as each retailer is different, he said. And then Surya can respond appropriately, whether that includes services such as its sampling program, creating a merchandise display or changing a policy. It's a collaboration, King said.
Surya's sales force of independent sales reps--totaling about 80 people--was restructured several years ago so that they focused on either furniture stores or design services, not territories, to better service those particular retail categories (the e-commerce and mass channels are handled by Surya's in-house sales team of about 20 people). To better service the reps, Surya recently created sales coordinator roles to train and support them, and now has about 30 of those.
This helps seal up any holes, King said, as sales leads sometimes slip through the cracks. "It's like doing business with a butterfly net; what are we missing?" said King.
While new accounts are good, existing accounts are just as important--if not more so--to the company. By just working with existing accounts, "we can double business this year without adding one single new account," King said. But that can be challenging: In 2011, the company opened 1,500 new accounts, but a huge percentage of those accounts had nominal reorders the following year, said King. To counter that, reps are now required to touch each customer once a month, he said, whether that's by email, phone call or visit, and they're in contact daily with their sales coordinator at Surya. If a rep is not able to service an account, King said, that account will go to another rep; there's no tenure.
"Accounts that reorder within 90 days are 85 percent of our business," King said, so communication is key.
In Calhoun, the company currently owns three buildings of 75,000 square feet each for warehousing and office space, while leasing another one. But it's already running out of space, so within three years Surya plans to consolidate everything into one facility, starting with a 500,000-square-foot space, and then expanding to 1 million.
The company has created a noticeably bigger presence at the markets in which it participates over the past few years, with the largest showroom to be opened in July for the Las Vegas Market, a 30,000 square-foot space in Building C. Previously, its High Point Market showroom, which it opened last year in Showplace, was the biggest, at 26,000 square feet.
Surya's marketing strategy at trade shows is impossible to miss, as the company has sponsored entertainment acts, planes flying banners overhead and more. It also has a robust online strategy to reach consumers.
But at the end of the day, it's all about design and color. That's what gets the customer to buy a rug, King said. "You have to focus on the fashion part of it. You can't be a leader in fashion and do only 100 product introductions a year. That's why we bring in everything." The company currently has more than 15 designer licenses, including Candice Olson, Angelo Surmelis, the Smithsonian Institution and, most recently, Ken Hom and Kate Spain.
The company has come a long way since King first met Tiwari in Surya's 20-by-40-foot booth in High Point Market's Showplace. Back then, in 2004, Surya "had no strategy, no customers, more inventory than revenue and a lot of ugly rugs," King said.
"We think we can change it all," said King. "We're building towards that."
Surya's Top Licenses:
Candice Olson
Angelo Surmelis
Beth Lacefield
Harlequin
Somerset Bay
advertisement
Video: Color Comes on Strong at High Point Market

   More Videos
advertisement
Tweets by @HFNmag