Synergy, Events for Newly Relocated Rug Showrooms at Las Vegas Market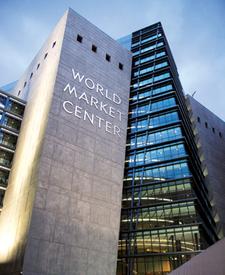 LAS VEGAS-Seven rug exhibitors will relocate to the Building B for the upcoming Las Vegas Market, where they will co-locate with complementary home decor and adjacent rug showrooms. Las Vegas Market will commemorate this rug relocation with a champagne toast on Wednesday, August 3, at 3 p.m. in each of the newly relocated rug showrooms, and attendees are invited to join the celebration.
In addition, there will be new merchandised vignettes -called B Scene - on floors 3, 4 and 5 of Building B that will showcase products from both these newly relocated showrooms as well as other home decor showrooms in Building B.
"With the move to Building B, these rug showrooms will experience a new synergy and excitement with the strong home decor segment at Las Vegas Market," said Robert Maricich, chief executive officer for International Market Centers, parent company of World Market Center Las Vegas. "Retailers will be equally pleased with the convenience of these new resources and the cross-buying opportunities it presents on these floors."
The newly relocated showroom exhibitors are: Chandra (now in suite B-300), Natco/Central Oriental (suite B-367), Dynamic Rugs (suite B-504), Masland Carpet and Rugs (suite B-416), Rizzy Rugs (suites B-518, B-520 and B-524), Kas Rugs, (suite B-570)
and CMI (Colonial Mills, Inc.; suite B-431).
"To be intermingled now with the home decor marketplace is significant in that it we now have the opportunity of the broader home furnishings buyer," said Don Scarlata, president and chief executive officer of CMI. "We feel this new opportunity in Building B will have an increased traffic and showcase Colonial Mills to a new array of home decor buyers. We hope to expose our area rugs to retailers that otherwise may not have purchased rugs, and we feel they'll certainly have that opportunity when visiting our new showroom in Building B at Las Vegas Market."
Dan Phelan, vice president of marketing for Masland Carpet and Rugs, added, "We are excited about moving where we hope to see more mainstream rug buyer traffic in Building B. Masland has shown at the Las Vegas Market for the last two years and we are confident the move to Building B will garner more buyers. We're looking forward to boosting our number of visitors and bullish on the opportunity for this summer market and beyond."
advertisement
Video: Color Comes on Strong at High Point Market

   More Videos
advertisement
Tweets by @HFNmag