Vibrant in Las Vegas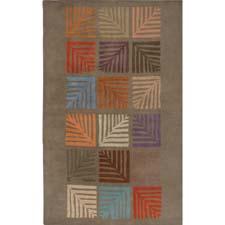 By Andrea Lillo
Value, color and texture will be key concepts at this month's Las Vegas Market, as manufacturers look to give both retailers and, ultimately, consumers, the right look at the right price.
At the same time, products 'Made in the U.S.A.' seem to be on the rise. Meanwhile, several rug exhibitors will debut new showrooms at market.
"I think that 'value' at any price point has become a staple of what we do," said Steve Roan, vice president, Karastan. "Even consumers with higher incomes expect a true value for their investment. Karastan fits in perfectly with that, drawing on our long quality history and 'Made in America' status."
Karastan will debut its new showroom at the Las Vegas Market, moving from the eighth to the third floor in Building C, to showroom C-312. "We decided to stay in the Design Center in Building C to take advantage of the hospitality market in the Las Vegas area," said Roan.
Karastan is only one of several companies that will emphasize its Made-in-America product line. All of Karastan's offerings are now made in the United States, Roan said. Going forward its rugs will be labeled with the new tag line, "Still Made in the U.S.A."
Capel is another company focusing on its American-made products. "We continue to hear 'Made in the USA' and, thankfully, that's a very strong category for us," said Tami Watras, vice-president, product and creative director. "Nobody does a better braid than Capel. It's what we do and we do it all in Troy, N.C., the same way that we did it 95 years ago." Capel's introductions include a 'Made in the USA' debut within its Capel original braid collections with 19 new colors/styles in a variety of looks, as well as Countryside, a braided collection with primitive country colors, such as barn red and black, and Home Sweet Home, a braided group with bright, fresh colors.
Also with Made-in-America products, Shaw will show its expanded Bob Timberlake line, which now has five designs, including one inspired by stained glass and another of an antique quilt. It's made in the U.S. of Shaw's EverTouch nylon. In addition, the company will also unveil Newport, made in the U.S. of olefin and which draws its designs from historical ikats, Native American textiles, oversized florals, modern geometrics and more.
While contemporary looks are established in the home, "transitional looks still dominate fashion and accents because of its casual style and ease of integration," said Kim Barta, brand manager, Shaw Living. As transitional pairs "traditional motifs with contemporary layouts, the result is an eclectic and casual style that can change with the owner's taste." In addition, she sees "traditional is beginning to come to life once again after a ten-year withdrawal. Looking far more modern than before, traditional will take market share from contemporary and transitional in the coming 24 months."
Surya will debut more than 300 new rug samples, as well as more than 100 pillow and pouf samples at market, said Al Mortensen, vice president of merchandising and product development. Its Candice Olson collection expands with 39 new rug designs, as well as her first pillow and pouf collection of 50 original designs. Among the new looks are Olson's first nature-inspired designs in several rugs and pillows, and additions to the existing Modern Classic and Sculpture collections. In addition, Surya will add to its Cottage Living licensed collection with the new Happy Cottage flatweave dhurries in fresh, bright colors, and in 17 designs.
Rizzy Home will add to existing collections, as well as some tone-on-tone colorations in its Diamond collection. "We have been very successful in the casual lifestyle market and will continue to grow this category with color and design," said Mark Ferullo, vice president, Rizzy Home. "Value and fashion is still the focus," he said. "Retailers are looking for success stories to build upon and proven collections," he said. "They want to be sure a vendor can deliver and has the back up stock needed to correctly serve them. We have increased the quantities of our stocking positions with this in mind."
Rizzy Home is one of the seven rug exhibitors that will debut new showrooms this market in Building B, on floors 3, 4 and 5, in order to have better synergy with the home decor segment on those floors. The new showrooms are: Chandra (suite B-300), cmi (Colonial Mills, Inc., suite B-431), Dynamic Rugs (suite B-504), Kas Rugs (suite B-570), Masland Carpet and Rugs (suite B-416), Natco/Central Oriental (suite B-367) and Rizzy Rugs (suites B-518, B-520 and B-524). In addition, each of these three floors will have merchandised vignettes--called B Scene--that will showcase the latest products from both these rug exhibitors as well as other home decor showrooms in Building B.
Feizy's introductions will include new jewel-toned colorways in its Indochine collection, as well as a new Tracy Porter line called Vivendi. "Retailers have been looking for and continue to look for great value," said Leah Feizy, assistant to the chief executive officer, Feizy. "They are not looking for cheap or inexpensive rugs--they're looking for a unique product that offers high quality at a fair price." And this is the case across all styles and constructions, she said.
United Weavers will continue to focus on its promotional priced lines. "We're finding more customers are seeing the value of the quick turns they provide as well as the value of just getting people in their stores in their stores to look," said Diane Carleo, marketing director. At the show, it will debut Vantage, a machine-made olefin collection with 15 designs.
advertisement
Video: Color Comes on Strong at High Point Market

   More Videos
advertisement
Tweets by @HFNmag