WOWed in Vegas
Posted on 
January 28, 2014
 by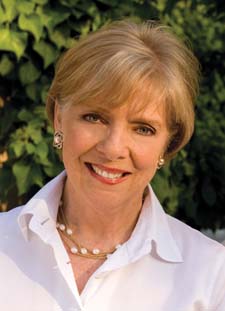 Susan Gravely
LAS VEGAS-WithIt, the women's leadership development network serving the home furnishings industry, honored five executives with its 2014 WOW Awards during the nonprofit's annual dinner and gala reception held here Sunday night.
Susan Gravely, founder and chief executive of Vietri, was presented the 2014 Legacy Award, which celebrates her significant lifetime contributions to the industry.
"One of the greatest aspects of what I have been able to do in my life has been to meet people from all over the world," Gravely told the gathering of some 200 executives from across the home furnishings field. "When we were growing up in eastern North Carolina, we had a globe. My father would point to Rocky Mount, N.C., and then draw a line to China or Zimbabwe or France or Italy, and would say, 'Look how small the world is! You are only a plane ticket or a phone call away, so go explore!' My father had a heart attack at 60, and my mother and sister and I were celebrating him on a trip to the Amalfi Coast where we ate off these wonderful plates that were mixed and matched. Thirty-one years later, I will say to all of you that we worked hard together to build the business and I am very proud that tabletop is being celebrated as part of the home furnishings industry. That means a great deal. I am honored to be recognized by this wonderful organization."
Interior designer, author and business consultant Mary Knackstedt was honored with the Mentoring Award, given for an executive or organization that has fostered advocacy, development or promotion
of women. Russell Bienenstock, publisher of Furniture World Magazine, earned the Education Award. The award honors an executive or company which has developed programs to educate associates, retailers or consumers about home furnishings. Leah Kirkland, MicroD, Inc., received the 2014 Young Leadership Award, honoring a woman under 40 who has demonstrated outstanding achievement and the potential to become an industry leader. Retailer Karrie Forbes, executive vice president of marketing at Mattress Firm, earned the 2014 Leadership Award, an honor WithIt created to recognize the contributions of a woman who has demonstrated successful leadership in her company, WithIt, and/or the industry.
Video: Color Comes on Strong at High Point Market

   More Videos
advertisement
advertisement
Tweets by @HFNmag