Arteriors Debuts New Showroom, Barry Dixon Line at High Point
Posted on 
October 15, 2012
 by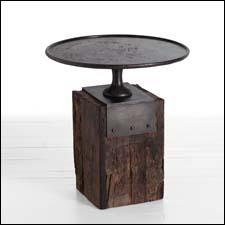 HIGH POINT, N.C.-Arteriors unveiled its newly expanded showroom at High Point Market, which is now about 6,000 square feet and located in IHFC, H315. In addition, the company introduced its third designer collection, with interior designer Barry Dixon.
The collection transcends cultural boundaries, Dixon told HFN, "They're not belonging to any one place. They incorporate elements from the North, South, East, West, the past and what we think is the future--we think that's modern." Some pieces are inspired by items he's owned for years, including an 18th century mirror he bought in London. The new Anvil tables were influenced by his grandfather's anvil that he kept in his barn and his grandmother's cake stands. "They're eclectic pieces that can finish a room," he said of the line, which includes accent furniture, mirrors, home decor, lighting and wall screens.
Dixon's collection has received a great response so far, said Mark Moussa, founder, Arteriors. "It's something different than anything else that's available in the marketplace. It's so fresh; it's so Barry."
Overall, the company is introducing more than 200 items at this market, with Dixon's line adding about another 60 items.
advertisement
advertisement
Tweets by @HFNmag