Biltmore Launches Initiatives to Showcase Licensed Products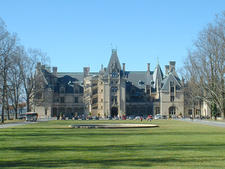 ASHEVILLE, N.C.-Biltmore's home licensing division recently unveiled several new ways to showcase its licensed products.
Each initiative is designed to make it easier for consumers to learn about and shop for the many different products Biltmore has to offer. These efforts include a new display in Biltmore's Antler Hill Village, a catalog and an e-commerce Web site.
"We are pleased by the continued growth of the Biltmore For Your Home brand and the success we've had working with our partners to produce exceptional products," said Tim Rosebrock, Biltmore's licensing division vice president and general manager. "These new initiatives are a direct result of the growing consumer demand for more ways to learn about and purchase our products."
Visitors to Biltmore can tour the recently opened Antler Hill Village, which includes the Biltmore Legacy exhibition. This showcase offers visitors the opportunity to learn more about the Vanderbilt Family--the founders of Biltmore--and the Biltmore licensing division.
The Biltmore For Your Home portion of the exhibit includes products from many of the division's licensing partners and hosts demonstrations on decorating and hospitality. There are also computer stations on site where visitors can learn about Biltmore products, locate a retailer in their area and sign up to receive Biltmore e-newsletters.
Another addition is the bi-annually published Biltmore Style catalog, which just released its Fall 2010 edition. The catalog features products that reflect the mansion's heritage from Biltmore's licensing partners. An e-catalog version is available at www.biltmore.com/ecatalog.
Consumers can also purchase Biltmore products, including many of those found in the catalog, from their homes by visiting Biltmore's recently updated e-commerce Web site, shop.biltmore.com.
Video: Color Comes on Strong at High Point Market

   More Videos
Tweets by @HFNmag