Casual Furniture Makers Report A Solid Year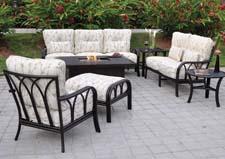 The Cannes Deep Seating Set from Pride Family Brands has a tropical motif. pridefamilybrands.com
By Jessica Goldbogen Harlan
Players in the casual furniture industry who are taking stock of 2011 say that despite cautious consumers and a chilly start to the season, business has been surprisingly steady this year.
"Our business for our fiscal 2011 was good," affirmed Rory Rehmert, vice president of sales and marketing for Pride Family Brands. "We posted a 20 percent-plus increase, which was good in light of the cold and wet spring that we found around the majority of the country."
Gloster, too, reported sales increases, of 15 percent. But Eric Parsons, president, clarified that this figure includes the company's retail, to the trade, and contract business, within which the retail business was flat while the trade business was up 25 percent and contract up 50 percent. Parsons said that because the most affluent echelon of consumers are less affected by the economic downturn, the company's design trade division has done well and is increasingly an area of focus for the company.
Leader's Casual Furniture, a Florida-based furniture retailer that also has a wholesale business, Palm Springs Rattan and Garden Classics, also reported a successful 2011. "On the retail side, we celebrated our best-ever written month in our 40-year company history in March," said Tami Newton, commercial sales director. She credits the company's success to its ability to be nimble and its continued experimentation with ways to get consumers into the door. "Once a customer is inside we usually can wow them with all of the products we have to offer at an incredible value."
Many manufacturers, including Gloster and Pride, were pleasantly surprised by the popularity and strong sales of deep seating pieces, as well as larger dining tables. Gloster introduced two outdoor lounge collections: Cloud, which has a stainless steel frame, and Block, which has an aluminum base; both are modular and have waterproof cushions. "We anticipated it being well received in the trade, but at retail we were very surprised at the reception we got," said Parsons. In its first year, the category accounted for 12 percent of sales, he said.
All-weather wicker also proved to be a strong seller in 2011. Kingsley-Bate, which is known for its teak and stainless furniture offerings, entered the all-weather wicker category this year and Brian Blakeney, director of sales and marketing, decreed it a "tremendous success," opening the door to new customers and markets. Like Gloster and Pride, Blakeney also said that Kingsley-Bate saw strong sales in deep seating furniture. "This speaks to the trend that people continue to view their outdoor space as an extension of their living room, not just their dining room," he said.
One thing that affected business in 2011 was shipping costs--manufacturers, especially those who deal with overseas factories, report that freight rates continue to rise, for both ocean freight and inland freight.
"Shipping and freight will always be a continual battle," said Newton. She reported that she's been in touch with a company that negotiates rates and then allows the supplier to ship under certain agreements dictated by them. "It's an interesting concept that we are willing to try," she said.
And raw material prices have increased, which in many cases has driven up product price points. "We saw a huge jump in cotton fabrics this year," reported Newton. "Steel for mechanisms went up as well." Her company offset these prices by changing some of its fabrics to outdoor fabrics and changing the finishes from premium to standard versions.
But manufacturers and retailers also are being more proactive to tempt the consumer and weather the weak economy. For instance, Leader's Casual Furniture direct-imports a number of unique accessories, "which adds an ambiance to the showroom that can't be found in many other retail specialty shops." Newton also said the retailer remains competitive with its customer service and its white glove/red carpet delivery.
And Gloster is addressing consumers' need for value by creating more introductory price points within its assortment. In 2011, the company value-engineered one of its more successful teak ranges to get a better yield on the teak logs, which decreased the price by about 15 percent. "When the economy was strong you designed with form and function," said Parsons. "But now designing with value takes so much more importance than it used to."
Most success stories were among high-end products and entry level collections, while mid-priced products stagnated. And while the number of pool and patio stores is shrinking, manufacturers are looking to replace that lost business in other channels, including traditional furniture stores, and, for upscale and contemporary manufacturers like Gloster, contemporary and specialty furniture stores.
Blakeney of Kingsley-Bate said that his company has seen an increase of traditional indoor-furniture retailers expand into the outdoor category. "Indoor stores are looking for new ways to augment their business, and many of them have customers who routinely ask about outdoor furniture. In an environment that's still very competitive, they need a bigger share of the consumer's wallet to sustain or build sales."
Video: Color Comes on Strong at High Point Market

   More Videos
Tweets by @HFNmag