Charles, Ninth Earl Spencer, to Make an Appearance at Theodore Alexander
Posted on 
October 20, 2011
 by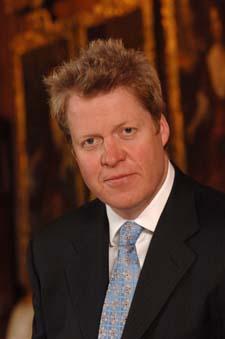 Ninth Earl Spencer
HIGH POINT, N.C.-Highlighting the grand opening celebration of the new, 50,000-square-foot Theodore Alexander showroom, located at 229 West Russell Avenue, Charles, Ninth Earl Spencer--Princess Diana's brother--will be in attendance to discuss the history of his family's ancestral home--Althorp Estate--and the lives of the nine Earls Spencer. He will also host a traditional champagne tea for retailers during the High Point Market.
From Friday, Oct. 21, through Sunday, Oct. 23, the Ninth Earl Spencer will be at the new Althorp Living History showroom, a new, dedicated showroom-within-a-showroom environment marked by an entryway that has been replicated from Althorp, and which is inside the new Theodore Alexander showroom. And then on Saturday, Oct. 22, from 6 to 7:30 p.m., there will be a traditional champagne tea as served to visitors at the Althorp Estate.
Theodore Alexander is the exclusive manufacturer of the Althorp Living History licensed home furnishings collection, based on more than 500 years of living history from the Althorp Estate. The company has created one or more items for Althorp Living History representing each of the Earls' significant contributions to their time.
Introductions this season will "reflect a captivating insight into the past, with furnishings based on the distinctive legacy of each of the nine Earls Spencer and their specific achievements, whether military, naval, political, personal or in direct relation to the 14,000-acre Althorp estate," said Russell Towner, president of Theodore Alexander. The "Nine Earls" galleried selection encompasses signature pieces in tribute to each of the Earls correlating with his designated period in history.
Retailers Share Spotted Trends at High Point Market

   More Videos
advertisement
advertisement
Tweets by @HFNmag