Outdoor Lifestyle: Macy's Does Outdoors
Posted on 
September 5, 2013
 by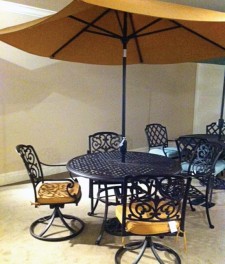 The Montclair five-piece set with 48-inch table
Macy's is wrapping up it's third season of offering casual furniture after abandoning the category in the 1970s.
The department store returned to the category with a vengeance, almost immediately becoming one of the nation's largest sellers of outdoor furniture. The company offers items catering to various lifestyles including urban with small balconies, suburban backyards and beach homes.
Most of the dining sets and seating groups feature earthtone colors, while a few carry eye-popping splashes of orange and red.
HFN recently spoke with Lisa Magann, Macy's EVP/GMM for Home about the retailer's casual furniture strategy:
HFN: How does outdoor/casual furniture fit with Macy's overall strategy?
Magann: Macy's strategy for outdoor and casual furniture is consistent with the overall furniture strategy to provide outstanding styling and unprecedented value.
HFN: Have there been any surprises since entering the category?
Magann: Macy's entered the outdoor furniture business because we identified a "white space" in the market where we felt there was an opportunity to introduce a new element to our product assortment that our customers would positively respond to. Understanding our customers' needs allowed us to successfully launch this new category, and help eliminate surprises along the way.
HFN: Have you introduced the category to Macy's stores nationwide?
Magann: Macy's outdoor furniture business has a national footprint. We currently offer outdoor furniture in 135 stores across the country and on macys.com.
HFN: Do you see growth in the category?
Magann: In two years, Macy's outdoor furniture business has grown extensively allowing us to introduce the program to additional stores nationwide. Our customers' reaction to this product category has been very positive, and we still see more opportunity for growth.
HFN: Do you merchandise the category as "whole room" by including rugs and decorative items?
Magann: We merchandise outdoor furniture in the same manner that we merchandise indoor furniture, using complete room settings, which includes decorative pieces such as rugs that are primarily sold within their dedicated departments.
HFN: What are some hot items now?
Magann: This season, wicker seating and cast aluminum dining are both popular items that we're offering our customers both in store and on macys.com. n
advertisement
advertisement
Tweets by @HFNmag