Vegas Market Moves to January and August Schedule
Posted on 
December 29, 2009
 by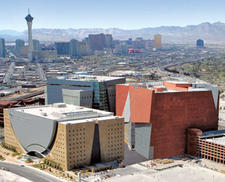 LAS VEGAS-World Market Center Las Vegas announced today it will move to a schedule of "mega-market" shows in January and August, replacing its February- September show rotation.
The move is effective with the summer 2010 show, which will now be held Aug. 2-6. A previously scheduled stand-alone gift show in June is being folded into the August event. The winter 2010 show scheduling, Feb. 1-5, remains unchanged.
The Market Center had moved its second- half show to September this year in a move that placed it in more of a direct head-to-head competition with the High Point Market, a month later.
Exhibitors told HFN at the time that the close dates created problems and was not in the industry's best interests.
In making the announcement of the change today, Robert Maricich, president of the WMC, said the new timing was a plus. "We have always said we would do what is best for our customers and their customers," he said. "In this unprecedented environment, we are confident these strategic business decisions will benefit our entire industry."
The winter 2011 show is scheduled for Jan. 24-28 and the Market Center said it would work to align its January dates going forward with the Surfaces show for the floor coverings industry, which is also held in Las Vegas. The InspireDesign show, the Market Center's new show for the hospitality industry which has its debut this coming February, will also be held concurrently going forward.
In describing its newly scheduled shows as mega-markets, Maricich said timing was an issue. "The new schedule also reduces potential industry conflicts, allowing businesses to focus all of their attention on maximizing their returns during Las Vegas market week."
The statement from the Market Center contained comments from executives from such companies as Lexington Home Brands, Powell Corp. and Global Views praising the new dates.
advertisement