Blogs
Blog: Yip Trades Spaces into Home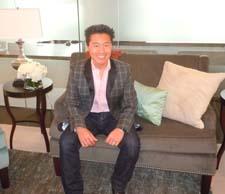 Vern Yip
Interior designer celebrity Vern Yip--who gained fame on TLC's "Trading Spaces"--has formally debuted his home collection, to be sold exclusively through HSN.
At an event at HSN's New York office, Yip presented the line to the media. The collection includes furniture, bedding, window treatments, rugs, lighting and other decor items. Each piece plays off his design philosophy, which he described to HFN as "a confluence of function, esthetics, quality and the idea that things need to be scaled appropriately."
His signature designs, Lotus and Medallion, are featured on the bedding, the rugs and the accent pieces. The line also includes solid-color elements such as quilts and decorative pillows stitched with lotus and medallion designs.
Yip said HSN is "the right place" for his home collection. "HSN is known for quality," he said. "It is built on quality at accessible prices. I have that behind me so that I can then focus on the esthetics of the collection. They have also given me a great amount of flexibility, more options in fabric and color, so I can focus on what will make the customer's life better."
With an architectural and interior-design practice based in Atlanta, Yip also has appeared on interior-design shows such as NBC's "Home Intervention" and "Deserving Design with Vern Yip" and "HGTV Design Star," both on the HGTV network.
Yip will introduce his home collection on HSN on July 26.--Dave Gill