Blogs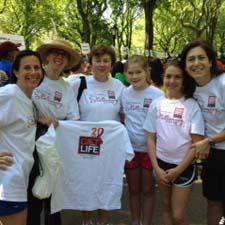 The 2012 team
Cathy Steel and her crew will be walking for a cause this weekend.
Steel, head of the Steel Associates public relations firm, is the leader of the Gift for Life/Stationery Show team of more than 25 walkers who will participate in AIDS Walk New York this Sunday. Some of the team will be part of the actual 10K walk in Central Park, while another group of "virtual" walkers will be perambulating the aisles of the Jacob K. Javits Convention Center and keeping track of their mileage on pedometers. This plan came about this year as a way to include more Stationery Show exhibitors who aren't free to leave their booths. Since they couldn't bring Javits to the walk, they decided to bring the walk to Javits. The Javits walkers will be wearing T-shirts to identify themselves, and there will be DIFFA (Design Industries Foundation Fighting AIDS) volunteers on site in the lobby accepting donations.
The Gift for Life/Stationery Show team had a fundraising goal of $5,000, which they have actually already reached, but they will continue fundraising until June 14. And this year, DIFFA has pledged a matching grant, so every dollar the group raises will actually be worth $2.
The AIDS walk is huge--last year it raised more than $6 million--and it is also an inspirational event. "It's a great day," said Steel, who last year walked alongside her 74 year-old neighbor whose son died from AIDS 20 years ago. "It's very uplifting, very heart-touching."
To donate, visit http://tinyurl.com/giftforlifeAWYN - Allison Zisko