Macef Set for September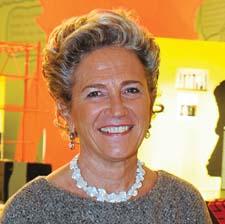 Giustina Li Gobbi, Macef
Macef, the International Home Show, is gearing up for its September edition, scheduled for Sept. 6-9 in Milan, Italy.
Featuring Italian-made and Italian-designed items in home decor, tableware/kitchenware, accessories and gifts, this fall marks the 93rd edition of the show.
"Macef is not a mere exhibition of products," said Giustina Li Gobbi, exhibition manager, Macef. "Macef is an open window on the world, and on the Made-in-Italy sector."
This September, the FieraMilano-based show features AbitaMi labs, designed to showcase examples of product innovation, use of materials, the manufacturing process and new sales modes. One AbitaMi lab will be present in each pavilion and will offer dedicated islands for every Macef sector. Each lab will be devoted to a specific topic which will underline the characteristics of the products and the topics of the specific sector.
For instance, an AbitaMi lab for Home Decor will feature "Living Green," describing how nature becomes a dwelling thanks to the interaction between outdoor and indoor spaces. An AbitaMi lab on Tableware & Kitchenware on "The Retail Store Evolution," explains how selling has changed thanks to various factors including alternative distribution channels. In Gifts, an AbitaMi lab details how packaging and gift boxes offer the opportunity to customize products and store services.
Macef will also present Opera Italiana, a section devoted to Italian creations. It's an exclusive project, Li Gobbi said, which will allow professionals and trade members to discover the creations which are the pride of the "Italian style."
In the Opera Italiana section, companies and artisans will reveal how they create valuable objects with "Italian know-how." All product categories at the show will be included in the section.
"'Made in Italy' is an expression that is globally recognized as a synonym of quality and unmistakable style," Li Gobbi said. "It's not only about products, but also atmospheres and the Italian art of living--values which are exclusive and non-repeatable elsewhere."
Showgoers, especially first-time Macef attendees, will want to follow Via Maestra, a path designed to make sure visitors don't miss significant areas of the show. According to the show's organizers, Via Maestra "will allow visitors to discover original viewpoints and a new innovative vision of the possible dialogue among the different products being shown."
Macef has become very active using various social network platforms and technology, Li Gobbi said. Visitors to macef.it/en can follow fashion trends along with previews of materials, colors and shapes expected at the upcoming show. Macef HD is the official application for the iPad that allows accessing videos and photos in high definition.
advertisement
Video: Color Comes on Strong at High Point Market

   More Videos
advertisement
Tweets by @HFNmag