Blogs
Blog: Kitchen Curiosities in Chicago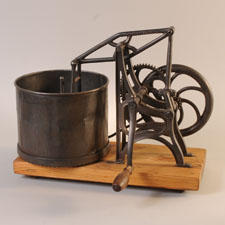 photo credit: Eric Futran/ChefShots
One hundred years before the food processor, there was the Starrett meat and vegetable chopper (version shown here from 1865), one of the 300-plus items now on view at Kendall College's Culinary Curiosity exhibition (culinarycuriosity.org) in Chicago.
The exhibit gives visitors -- and perhaps International Home + Housewares Show attendees looking to take a break at this upcoming show-- a taste of ye-olde kitchen products in 12 themed displays. "Liquid Refreshments" highlights beverage tools such as a growler (a beer container that people filled at the saloon to take home), a milk pail and a coffee bean/spice roaster, for example, while "Bakers' Secrets: Doughs & Delicacies" includes a coconut shredder and a cordial cherry mold.
Showcasing agricultural implements and commercial equipment as well as items used by home cooks over many generations, the exhibit shows how much food preparation has evolved. Products such as a wine warmer and the Sensible Fruit and Lard Press are definitely culinary curiosities.
One needs to call ahead to schedule a free tour (contact Patsy Caruso, pcaruso@kendall.edu, 312-752-2352), though several of the exhibits are on view at the college's culinary school restaurant as well. So dining there will result in both seeing the exhibition and eating a meal possibly crafted by the hands of a future Michelin-starred chef -- a win-win.--Andrea Lillo