Blogs
Blog: SodaStream, Super Bowl Winner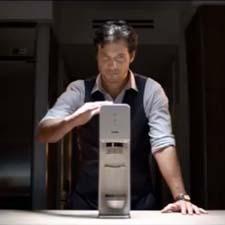 From the SodaStream ad
The Baltimore Ravens were crowned Super Bowl champions last night, but appliance-maker SodaStream was also a winner during the nation's most-watched sporting event.
More than 100 million viewers saw SodaStream make its pitch for using its appliance to create fizzy drinks at home. The company maintained that using its product is environmentally friendly, sparing landfills the millions of plastic jugs used by drink makers such as Coke and Pepsi.
SodaStream's initial ad showed Coke and Pepsi drivers delivering exploding jugs of soda. This ad was rejected by CBS, perhaps not surprising since both Coke and Pepsi were major advertisers for the Super Bowl broadcast. The SodaStream ad that ran last night did not show Coke or Pepsi logos.
The original SodaStream ad now is taking on a life of its own online. The banned ad has already been viewed by nearly four million viewers.--Duke Ratliff