Creative Bath: There's Magic Behind The Curtain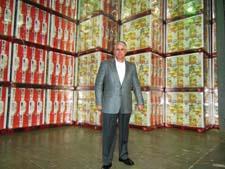 Bob Weiss has led Creative Bath into new product categories in housewares.
By David Gill
From its beginnings as a manufacturer of wall switch plates and cabinet hardware, Central Islip, N.Y.-based Creative Bath has expanded into a global supplier of both bath products and housewares.
This year marks the company's 40th anniversary in business. It has accomplished much in these past four decades through what Bob Weiss, its chief operating officer and executive vice president of sales and marketing, described as "magic," which he defined as "hard work, dedication and finding a way to fit a round peg in a square hole ... and that is not easy."
The "magic" began in 1973, when Mat Meinzinger--who emigrated to the United States from Hungary by way of Germany in 1956--co-founded Creative Bath with Guenther Bartsch, with an initial capital outlay of $10,000. As with many startups, the business started slowly. Its first year's sales were $40,000, leaving Meinzinger to wonder if and how Creative Bath could survive.
It did, and in the process the company evolved its product line. While it eventually exited wall switch plates and cabinet hardware, it began adding bath products including collections of coordinated shower curtains, jacquard embellished towels, bath mats, lotion pumps and other bath accessories. Currently, organizers, caddies, shower liners and hooks, and toys are also part of the bath line.
"We continue to maintain our position as a dominant producer of decorative merchandise for the bath," Weiss said.
In 2003, Meinzinger decided to expand into housewares. Two years later, he brought Weiss on board to spearhead this effort as vice president of sales and marketing. The company reorganized its sales effort into three areas, each with its own representatives: housewares, bath, and storage and organization.
By 2011, housewares had become Creative Bath's biggest growth area. This line now encompasses serveware, drinkware and tabletop, and storage and organization. "We are emerging as a major supplier of storage and organizational products," Weiss said.
Weiss was promoted to his current post in 2010. Also that year, Meinzinger died after a battle with pancreatic cancer. Weiss said Meinzinger's legacy lives on as the company continues to evolve.
Today, Creative Bath consists of five business units: Creative Bath Products Inc.; Creative Ware, its housewares division; Creative Home Furnishings, which markets and sells pillows and decorative bedding under the Dakotah brand; Creative Private Label/U.S. Manufacturing; and Bath Creations, its Canadian unit.
The company's customer base encompasses many of the nation's largest retailers in a number of channels of distribution. It also counts retailers in Japan, the United Kingdom, Russia, Saudi Arabia, South America, Canada, Mexico and other regions around the world as customers.
Weiss emphasized partnership as the key focus of Creative Bath with its customers. "We continue to focus on the framework of our core businesses to further enhance our competitiveness in the marketplace as a invaluable partner and supplier to our customers," he said.
Product innovation plays a huge role in this partnership, according to Weiss. "Staying close to our customers with continuous focus on new product development and remaining flexible to produce custom products with a commitment to global expansion is not just magic, it is the heartbeat of our company," he said.
Manufacturing takes place at Creative Bath's Central Islip headquarters; the company also imports some items. "Our U.S.A. production delivers just-in-time inventory management," Weiss said. "Items ordered Monday ship Friday. Creative Bath's vendor scorecards are near perfect with the top retailers in the country."
To stay close to its customers, Creative Bath has become an active participant in a number of trade shows. These include the Gift & Home Textiles Market Week, the International Home + Housewares Show, the New York Home Fashions Market and the New York Tabletop Show.
It has been a long-time tenant of the 7 W New York showroom building in New York City. Last month, it moved from its previous space on the building's 10th floor to a new space on the third floor.
Creative Bath's business will remain zeroed in on product innovation and its retail partnerships as it ventures into the next 40 years of its business life. Weiss said, "We greatly appreciate the proven commitment and partnerships from our customers and employees, who have helped maintain Creative Bath's objectives for continued growth."
advertisement
Donny Osmond Home Adds Decorative Accessories

   More Videos
advertisement
advertisement
Tweets by @HFNmag