Cutlery Gets More Colorful
Posted on 
March 31, 2011
 by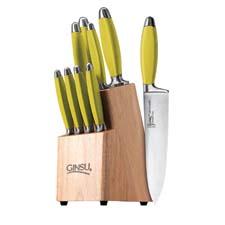 Ginsu launched the Sofuto collection in wasabi, coral and lotus colorways. genuineginsu.com
Cutlery introductions at last month's International Home + Housewares Show touched on a number of trends in the category, but predominantly on the broad use of color.
Resin-coated blades, some printed with icons of fruits or vegetables, from vendors such as Lifetime Brands, Kuhn Rikon and Hampton Forge, were presented in an array of bright colors. Easy-grip handles, too, were offered in many different shades from manufacturers like Messermeister and Ginsu. To highlight the fashionable aspect of these new collections, clear acrylic knife blocks and other easily visible forms of knife storage were offered, as were color-coded plastic cutting boards that coordinated with the different-colored knives to prevent cross-contamination.
Ceramic knife introductions increased significantly at last month's show, at virtually every price point. They were heralded for their sharpness, their inability to rust, and their non-reactive qualities. At least one vendor is working on a "break resistant" ceramic blade, as well as colored ones.
Many vendors offered their open stock assortments with blade guards that double as packaging, with a keyhole opening at the top for easy hanging. Doing away with clamshell packaging saves retailers valuable floor space and promotes impulse buys, vendors said.
Industry leaders Wusthof and J.A. Henckels stuck close to their core product lines. Wusthof is tapping the outdoor enthusiast with seven-inch fish fillet knives and two hunting knives, one straight and one folding.-Allison Zisko
advertisement