Hoping to be Seen on TV
Posted on 
May 11, 2011
 by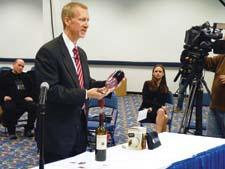 The Wine Balloon from Eric Corti keeps air out of a bottle of leftover wine.
By Andrea Lillo
They came pitching wine savers, flip flops, closet organization, cooler solutions and ab workouts. They came with fancy presentations or plain printouts, products or prototypes. But regardless of how they demonstrated their ideas, these inventors were all looking for the same result: To have their product picked to join the TeleBrands' line and coupled with the tagline As Seen on TV.
For the past three years, TeleBrands has held an American Idol-like pitch session for inventors about once a month, in different locations nationwide. The day after this year's International Home + Housewares Show ended, the company held an Inventors Day at the Allstate Arena outside Chicago's O'Hare International Airport. Though 325 inventors applied for spots, only about 26 inventors were chosen to pitch their products in front of three judges, including TeleBrands' CEO and founder AJ Khubani and guest judge Mike Gordon, president of the Chicago Wolves, the hockey team that plays at the arena. (The third judging spot was filled by Khubani's wife Poonam Khubani for the first half, and Dhana Cohen, founder/president, thenextbigzing.com, for the second.)
"It's a time-efficient way to see inventors," Khubani told HFN. With decades of experience--and such current top sellers as Ped Egg, Pasta Boat, Chef Basket and Windshield Wonder--Khubani has an eye for what will work, and what won't. "The best ones you know right away." While the odds for inventors are slim --Khubani sees hundreds of products a year--there are success stories. The One-Second Needle, for example, was pitched at the Inventors Day after the Housewares Show last year, and debuted with TeleBrands at this year's show.
Facing a screen that counts down the time, each inventor was given five minutes to pitch his or her idea to the panel, followed with questions and discussion. About a product called the Zipline, a remote control holder with a retractable line: "I can relate to this: when I was a child, I was the remote control," said Khubani, as his parents would ask him to turn up the sound or change the channel. However, "a remote gives you freedom; this limits it." Gordon added, "My wife would kill me if I mounted it to the wall." After some discussion, the vote is a thumbs down. "We don't want to have to convince people they want it," Khubani said. "We want, 'Yes, I want it.'"
When inventor Michael Mann's turn came up, he first picked up TeleBrands' successful Windshield Wonder off a nearby table. "This is for the inside of the car? We have something for the outside." His TriTrak windshield wiper blade already had a proven track record with consumers through airings of Mann's earlier commercials. "This is interesting," said Khubani. "They sold 10,000 in one weekend--you can't ignore those numbers."
Lisa Zidlick brought her portable storage system with interchangeable pouches called Bag Bundle, of which she's already sold almost 2,000. Its multitude of uses include scrapbooking, travel, jewelry, and kids' items. She said her husband even has one for his hardware in the garage. She added that the system could be made in college colors, or in such shapes as hearts or dinosaurs. "There may be something there; it's not clear at the moment," said Khubani.
The panel liked the Happy Body Stretch Strap from inventor and personal trainer William Pavelec, as it was a cheaper version of a back product that costs hundreds of dollars. "I've got Grandmas using this," said Pavelec--and the panel as well, as he had the three judges stretch with it themselves to test it out. "I like its ease of use," said Gordon. "If you can get substantiation on this, from a doctor or physical therapist, we're interested," added Khubani.
Another hit was the Wine Balloon, which at the end of the day was the only invention that TeleBrands was planning to pursue. The product uses a balloon to keep air out of a leftover bottle of wine.
"I think it's great," said Cohen. "I've thrown out a whole bottle of wine because it didn't taste right." And while Khubani said he could raise all types of objections, "I think it's so novel; I think that will drive sales."
advertisement
advertisement
Tweets by @HFNmag