Kaz to Debut Campaign for Pur Water Filtration
Posted on 
August 18, 2014
 by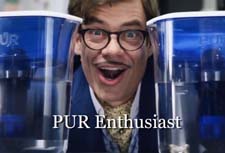 From Pur's new creative marketing campaign
SOUTHBOROUGH, Mass.-The Kaz division of Helen of Troy is rolling out a new creative marketing campaign for its Pur brand of water filtration products, the first new campaign for the brand since 2008.
A Kaz statement said the new initiative intends to elevate water filtration in a fun and lighthearted way. It features an eccentric and self-appointed water critic named Arthur Tweedie, who will serve as a catalyst to help consumers question the quality of their drinking water and educate them that their tap water may contain contaminants such as lead, heavy metals, microbial cysts and by-products of chlorine. Tweedie will be seen in a series of YouTube-style television spots beginning today, which will also pin Pur against alternatives including its leading competitors, according to the statement.
Along with the TV spots, the campaign will roll out social-media channels for Arthur Tweedie on Twitter (@ArthurTweedie) and Tumblr (ArthurTweedie.com).
Brian Carboni, Kaz's marketing director, said, "We wanted to make a bold statement about Pur as a category leader and expert in the removal of drinking-water contaminants. We think our new creative will grab people's attention and educate them through the lens of comedy, about the benefits of superior water filtration."
Next month, Kaz will also announce a larger rebranding effort for Pur, which will include changes at shelf, the statement said.
advertisement
advertisement
Tweets by @HFNmag