Starfrit to Launch Proprietary Nonstick Coating
Posted on 
February 28, 2013
 by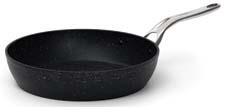 By Andrea Lillo
A proprietary nonstick coating made with a steel-ball-impact manufacturing process will debut from Starfrit at the International Home + Housewares Show. The process is similar to the hard-anodized process, but rather than using chemicals to harden the cookware it uses the projection of steel pellets against the pieces to densify it, said Juanita Coumbias, international sales and marketing director, Starfrit USA Inc.
The coating (unnamed at press time) will be used on the company's new The Rock cookware line, which will come with a limited 10-year warranty--"unheard of to offer with nonstick cookware," Coumbias said. Usually "there are so many disclaimers." The coating is made in conjunction with Whitford's Quantanium coating, which is already an "excellent coating to begin with," she said. And the process leaves behind indentations one can feel and see, she added.
Featuring an extra thick (3.5-4 mm) forged aluminum base, The Rock will provide a 40 percent-enhanced corrosion resistance versus its cast aluminum counterparts, the company said. Using the standard measurement of food release called the dry-egg test, the cookware with the Quantanium alone was good up to 10 eggs, Coumbias said, but with the addition of the steel ball impact process, it "only starts to stick after 27 eggs." The launch will begin on The Rock, but Coumbias plans to extend this new coating to as many of Starfrit's lines as possible.
The Rock cookware collection includes an 8-, 10- and 12-inch fry pan (for suggested retail prices of $29.95, $34.95 and $39.95 respectively) and a ten-piece set (consisting of 1 qt., 2 qt. and 3 qt. saucepans with lids, a 6 qt. stock pot with lid and an 11-inch saute pan with lid, and retailing for $199.95). Each piece features ergonomic, cast-riveted stainless steel handles; lids are made of tempered glass and feature a steam-release vent.
advertisement
advertisement
Tweets by @HFNmag