Time Marches On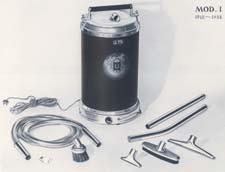 The Lux 1, a lighter-weight and less-expensive vacuum developed by Axel Wenner-Gren, debuted 100 years ago. electrolux.com
By David Gill
This year is a momentous one in the business lives of two of the housewares industry's powerhouses--Electrolux and Andis.
First, 2012 marks the 100th anniversary of the Lux 1, a vacuum cleaner invented by Axel Wenner-Gren, who founded Electrolux seven years later. It also marks the 90th anniversary of the founding of Andis, which has become a major player in the personal-care market.
According to an Electrolux statement, the Lux 1 proved to be a game changer in floor care. Wenner-Gren was inspired by the larger and heavier vacuums available at the time, and decided to develop a smaller, more affordable and more efficient model than many of the vacuums then available. Weighing 30 pounds, the Lux 1 sold for about $42, equivalent to about $1,750 today.
Wenner-Gren's creativity extended beyond product development. It was he who introduced the concept of home sales, allowing salespeople to visit people and showcase vacuums right in their homes. Eventually, home sales became a crucial tool in marketing other products--brushes, cosmetics, encyclopedias--and, according to Electrolux, enabled consumer-product vendors to gain insights in how these products were used through direct contact with consumers.
Electrolux's history in vacuums has been a parade of innovations: Model V, the first vacuum cleaner on runners, launched in 1921; the Luxomatic Z90 in 1964, the first model with a cord winder, self-sealing paper dust bags and a dust indicator; and the Trilobite in 2001, the first mass-produced, self-propelled vacuum. Earlier this year, the company began incorporating Brushroll Clean Technology, which provides one-touch brush-roll cleaning, to its Ergorapido line.
Andis opened for business in the basement of the home of its founder, Matthew G. Andis Sr., a tool maker, in Racine, Wis., in 1922. Its first product was the Andis Clipper, a smaller and lighter version of the electric hair clipper. Similar to Electrolux, Matthew Andis began by selling the clipper door to door to barbershops in the Racine area.
In the coming decades, Andis entered first the hair-care category, developing the first wall-mounted hair dryer, and then the animal-care market. Andis also went international early on, introducing its products in the European market about 80 years ago. Today, the company's product line is sold in more than 90 countries.
Today, Matthew K. Andis, great-grandson of the founder, runs the company as president along with his sisters--Marcia, senior vice president of market development, and Laura, senior vice president of finance. Matthew L. Andis, their father, continues as chairman. This in itself has made Andis unique. According to the Conway Center for Family Business, only about 3 percent of all family businesses survive into the fourth generation as Andis has.
To mark the anniversary, the company has introduced three products in special packaging that features a 90th anniversary logo. These include the Promoter+ Combo Kit, a 26-piece hair-care kit with clipper, trimmer and numbered guided combs; the Headliner, an 11-piece home hair-cutting kit including a trimmer with a stainless steel T-blade; and the High Heat Ceramic Flat Iron, with ceramic plates that distribute and retain heat evenly for smoother and shinier hair.
SPONSORED: Abbyson's Fashion-Forward Collections Shine in High Point

   More Videos
Tweets by @HFNmag