Blogs
BLOG: CALiPER Keeps the "Junk" out of LED Bulbs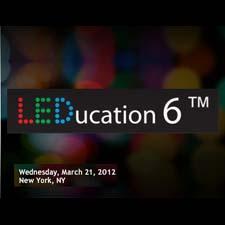 By Andrea Lillo
The LED industry gathered here last week for the sixth LEDucation, a day-long event that includes seminars, networking opportunities and tradeshow on the latest in this technology. One morning seminar gave attendees an update on government programs such as , which aims to help ensure that the growing LED category is a positive experience for consumers, as well as keeps "the industry honest," said Naomi Miller, senior lighting engineer, technology planning and deployment, Pacific Northwest National Laboratory, a laboratory for the Department of Energy.
The CALiPER program tests 80 to 100 products per year, in different groups such as incandescent A-lamp replacements, recessed downlight LED retrofit products and LED T8 replacement lamps. "There's an awful lot of junk out there--that will give LED a bad name," Miller said. The program publishes the individual product reports online, and "identifies the areas that are not doing well." In addition to keeping the industry "honest," it will, in turn, "inspire consumer confidence."
CALiPER normally tests for lumen output, efficacy, watts, power factor, light distribution (in some cases), many color metrics and more. One such test is about how the color of a product shifts over its lifetime, and Miller showed the audience a chart where one LED bulb's color barely moved at all--showing a stable, strong product--while another "looked like you attached a string to a mosquito."
The program helps examine what makes one "product so bad, and what makes [another] so good." But she added that LED products have gotten "so much better" over the past few years and the newer bulbs are much more efficient. She later told HFN that her lab's mission is "helping to make LED products better, faster, so that they can be adopted sooner, and help reduce energy use and costs in this country more quickly." More information can be found at ssl.energy.gov/caliper.html. Besides CALiPER, however, PNNL has other Solid-State Lighting (SSL) programs.
Now in its sixth year, LEDucation saw more than 2,000 attendees this year--a 10 percent increase from the year before. The event is sponsored by the Designers Lighting Forum of New York.