Blogs
Blog: Dallas Lighting Market Illuminates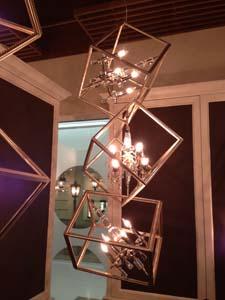 DALLAS-Early American looks, use of real and faux wood and wavy textured glass and, of course, more LED products are among the introductions at the Dallas International Lighting Market, which opened yesterday.
ELK Lighting debuted the first fixtures for its HGTV line, which previously had only portables. Now the line offers 72 lamps and 80 fixtures, said Brad Smith, CEO. "With HGTV, it's all about using different materials," and for these new introductions, they included metal with wood looks, mercury glass and ceramic.
In addition, ELK now offers LED as an option in its pendant line, which use 9.5 watts instead of 60 watts. The company overall focused on outdoor, pendants, flush mounts and bath for this market, Smith said."We're adding a lot of value."
Vaxcel delved into drum pendants for the first time, with three styles in one size, including a punched metal item. Another new collection called Bristol is a traditional look in a white finish. "Consumers are looking for white or off-white fixtures," said Peter Wozniczka, spokesperson. Another new item, Simone, incorporates a Spanish theme and features two finishes and aged swirl glass.
Quoizel launched its newest designer line with Carolyn Kinder. While Quoizel offers portables already, Kinder is really "helping us in the portable area," said Bobbi Pearsall, director of advertising. In five collections and nine stand-alone lamps, the new line also offers accessories, such as home decor items and a console--new areas for the company--as well as mirrors. In addition, new displays for both Kinder's and Sergio Orozco's line, and the bath and outdoor categories were shown.
Early American looks were seen in a lot of manufacturers' showrooms, including Hinkley, which debuted the Middlefield fixture made of wood. Other Hinkley introductions include Ava, a bird-cage look with mica glass, and Chenning, a flowing piece with pierced metal work. Hinkley expanded its showroom into an area it calls Studio H, a gallery-like space.
Sculptural artistic pieces were a focus at Troy, including Revolution, a swirling piece made of rebar. Relativity is a fun collection that has a chalkboard-like interior, with math equations and different images of Albert Einstein himself. The company also incorporated more feminine looks into several collections, such as Chianti, which is made of wrought iron and with lamp shades shaped like wine vessels.
Sister company Corbett debuted Big Bang, a starburst-like fixture, and Houdini, a fun piece where the elements are tilted in a seemingly chaotic way.
Sonneman introduced a sleek LED task lamp that is turned on and off with a touch sensor. Called the Quatro, it uses a flat panel LED and has 25 percent more brightness and uses 25 percent less energy, according to Robert Sonneman, the designer. The item was a long time in development, he said. "I wanted something that was worth the wait. It spoke of science and art."