Blogs
Blog From Dallas Market: Craze for Crystal, Love for LEDs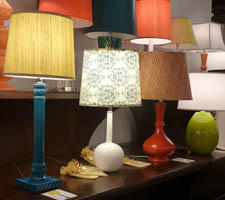 DALLAS-The Dallas International Lighting Market wrapped up yesterday, and many companies used the opportunity to both bolster their lines and break into new categories. Traditional products were decluttered and updated to appeal to customers who like traditional but want something fresh. And crystal continues to proliferate, especially with a contemporary twist.
Introductions also included new company brands. American De Rosa Lamparts has renamed itself Luminance, the parent company of what is now called ADL, as well as its other divisions. And that included its new portable line called Krush. With an initial group of more than 50 SKUs, the table lamps cover the gamut of styles--traditional, transitional and contemporary.
Quoizel launched its new line of table lamps for Lenox--departing from the traditional looks it has produced for this brand in the past, said Bobbie Pearsall, director of advertising. The nine initial designs all have clean, simple shapes and are made of such materials as ceramic, crystal and steel.
Former Vintage Veranda executive Mark Swavelle debuted his new Couture line in the Home FINDS temporary area, and which targets the high-end designer market. While most of his looks are traditional, he updates them in some way, mixing crystal bases with resin, for example.
Crystal elements continued to crystallize, many with a modern adaptation. Swarovski debuted its new Lighting Centerpieces collection of fixtures in the U.S., along with a new showroom with its sister company, Schonbek. The six Lighting Centerpieces groups were each created by outside designers and architects such as Stephen Burks and Andre Kikoski as well as inside designers, and include such details as sheets of crystal and handstitched leather.
Several companies, while still rooted in traditional looks, brought in more contemporary styles. Kalco's Manchester collection, for example, had an urban look in iron, available in four finishes. "It's a departure for Kalco," said Nicole Whitley, manager of marketing communications. "We're aiming for the urban look, and there's a place for it."
Kichler showed several new collections that toned down the ornamentation, such as Townsend, which had slimmed arms, cleaner lines and a straight-side shade, said Jeff Dross, corporate director of education and industry trends. And while the diameters of introductions were not as wide as before, as houses are being built smaller, they are still elongated, he added. "People are not giving up their nine-foot ceilings. They don't want eight-foot ones," and need fixtures to match.
LED introductions at this market fell mostly in the task/desk lamp arena, and many had both style and substance. Bulbrite expanded its desk lamp offering with Symple and Swyvel, each of which had such features as touch buttons to dim and turn it on/off. Available in either black or white, Swyvel also has a USB port.
In the Temporaries, DiCon Lighting debuted its Cielux consumer brand with several LED lamps. The Solare X is a sleek black task lamp that also had touch controls, allowing the consumer to toggle among 3,000K, 4,500K and 6,000K temperatures. It also came in a sophisticated black gift box.
After acquiring Artistic Lighting and Design in May, E.L.K. Lighting debuted the new brand within its showroom, showcasing about 60 SKUs of the 250 available in the Artistic line, an outdoor brand known for its use of brass.
And American-made items received more play. Hinkley showed a few that were crafted by artisans near its Cleveland location, including the Loft group of maple, cherry and walnut pendants. It also debuted its Lighting Made Simple publication, which it can make available to retailers, showrooms, and consumers to help consumers understand lighting basics so they feel comfortable buying items in the category.--Andrea Lillo