Blogs
Blog: Lighting Product Not the Only Bright Thing in Dallas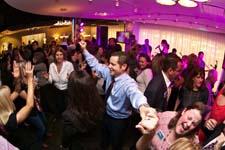 Hinckley's rock-n-roll party
Things felt a whole lot brighter in Dallas - not due to the thousands of lighting product debuting there, though they were indeed illuminating, but to the more positive spirit seen at the Dallas International Lighting Market, which ended yesterday. I've been covering the category for four years and I've never seen the show have such energy.
The number of showrooms that expanded or opened, the number of parties, the number of people at those parties -- it felt like an industry renewed. Over and over again an exhibitor would point out to me that the hundreds of introductions they were showing were more than ever, or how this market reminded them of how business was during better times, or how crowded it was.
"You could not move in here before" during Crystorama's sales rep ceremony, an employee told me on opening day.
This was the market to expand and renovate showrooms. Feiss took over adjacent space and unveiled a showroom now spanning about 23,000 square feet. "It felt like the old Feiss; we've been reborn," said Barbara Cote, product development manager. And though the showroom has big spaces, it still was crowded at market, she said -- "we love it."
A number of companies also opened showrooms for the first time at DMC, including Preciosa, Cristalstrass and Osram Sylvania. U.S. manufacturer Van Teal launched its first showroom there in 12 years.
DMC veteran Hinkley Lighting grew its showroom to 17,500 square feet, which was needed for its packed Friday night rock-n-roll party, featuring live music, dancing and a trip giveaway. At other showrooms, beergardens were the party theme, including Eglo, which hosted its January Oktoberfest.
Many companies said it was just a continuation of a vibe that started at the Atlanta International Gift & Home Furnishings Market the week before. "It felt like the old days," said Susan Andrulis, national sales manager, IMAX, said of the Atlanta show on the first day of the lighting market. "Attitudes were better than we've seen in a long time," said Bryan Williams, executive vice president, Crestview.
No one's saying that business was back to its peak - there's still a long way to go. However, "No one's using the word 'bottom' anymore," as in hitting the bottom, said Ron Hersh, president, Authenticity. People don't want a roller coaster of business ups and downs, he said -- now they are looking for consistency. "Stability is a good thing."
It was certainly a nice way to start off the new year. - Andrea Lillo