Blogs
Blog: No Plugs Needed for These Portable Lamps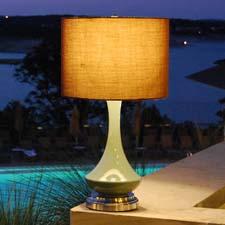 Only the need for light--not an outlet--is required for the new Modern Lantern cordless lamps from husband and wife team Stephen and Carrie Fitzwater. Instead of electricity, these lamps run on a rechargeable 12V Li-Ion battery, which powers an LED bulb that's equivalent to a 35 watt incandescent bulb. But they have the look of regular lamps, with styles to match.
Modern Lantern was born after Carrie Fitzwater, an interior designer, kept coming across the problem of how to light spaces in a home without a nearby outlet. Her husband--a product designer who's worked for Pier 1 Imports and the Bombay Company--came up with a prototype for a portable, rechargeable lamp. Fully charged, the patent-pending lamps illuminate for up to 24 hours; they take about three hours to recharge. For those who don't want to wait to recharge, Modern Lantern sells additional batteries, so one battery can always be charging while the other is in use.
The initial line sold out online on modernlantern.com and Amazon, so the Fitzwaters knew they were onto something. For the product to become more durable and functional, however, they needed money to purchase injection molds for the manufacturing process and turned to kickstarter.com, where creative projects get funded by crowdsourcing. People who wanted to help fund the company's $12,000 project could do so, and pledges of $250 or more would net donors a lamp from the new Modern Lantern line, a collection of glass and metal items that will be available in July. The project had a deadline of May 8, and exceeded its goal by raising almost $16,000.
The Fort Worth, Texas-based couple debuted its wholesale division at last month's High Point Market and has started to sell its line through its rep group. After its line of glass and metal lamps launches in July, ceramic ones will be coming this fall. The lamps will retail for between $299 to $450. Already the Fitzwaters are working on a brighter, 60-watt incandescent equivalent LED bulb for their line for 2014. And lamps for outdoor use are also in development.-Andrea Lillo