Rejuvenation Expands Lighting Categories Through O.C. White Partnership
Posted on 
October 3, 2012
 by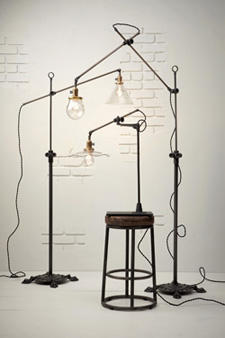 Rejuvenation's O.C. White lamps
PORTLAND, Ore.-Rejuvenation, a Williams-Sonoma brand known for its historically accurate restored antiques, is expanding its product assortment to include table and floor lamps. The first introduction in this new category is in partnership with manufacturer O.C. White to re-create industrial task lighting.
"The expansion into the table and floor lamp category is significant as it broadens Rejuvenation's reach to appeal to anyone looking for easy lighting updates in their home," said Laura Alber, president and CEO of Williams-Sonoma,Inc. "The partnership with O.C. White is ideal given the historic perspective and dedication to made-in-America craftsmanship that both companies share."
Massachusetts-based O.C. White patented innovative joints in the 1880s and '90s that enabled the production of articulated, adjustable light fixtures. These industrial lights brought directed, articulated illumination to factories, office desks, machinery, and hospital rooms from 1900 to the 1930s, according to Rejuvenation.
Rejuvenation will reissue six O.C. White lamps; the first collection of what will become an expansive table and floor lamp offering from the Portland-based company.
advertisement