Numerous Events Planned for Dallas Total Home & Gift Market
Posted on 
January 12, 2010
 by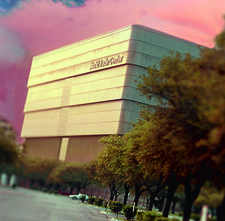 DALLAS-For the upcoming Dallas Total Home & Gift Market, Jan. 13 to 19, buyers can take advantage of a number of events, including drawings for cash and other prizes.
From Thursday through Saturday, at 6 p.m., buyers can win cash drawings up to $1,000 in its Trade Mart Treasures program, taking place in the Trade Mart on the first and second floors. The drawings will be held on the Trade Mart's second floor atrium; buyers must be present to win.
Buyers will also be able to win prizes on the fifth floor of the World Trade Center for Live on 5, which will take place at 3 p.m. from Thursday to Saturday. Buyers who place orders on the tenth floor of the World Trade Center will be entered to win cash on Saturday at 10 a.m. for the Win More on 10 program.
Attendees who place a qualifying order in participating showrooms on the 13th floor in World Trade Center on Friday and Saturday from 4 to 5 p.m. may win instant cash and prizes, such as hotel and restaurant vouchers and merchandise from 13th floor showrooms.
Buyers who visit participating seventh floor jewelry and women's accessories showrooms in the World Trade Center on Saturday at 2 p.m. may win Showroom Bucks, which can be used for purchases on that floor.
Participating ninth floor exhibitors in the World Trade Center are sponsoring Unwind on 9, held Friday and Saturday from 4 to 6 p.m., where buyers can relax and enjoy complimentary food and beverages.
advertisement