Opinions
Blog: A $1,000 Pig Sculpture and Solar Lighting in High Point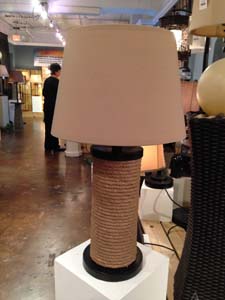 Kenroy Home's solar rechargeable lamps
HIGH POINT, N.C.-High Point Market, which ends today, saw companies expand into new categories and grow product lines made with natural materials.
The Phillips Collection debuted a new category at market: framed art. "Shadow boxes with interesting materials are something we can expand into," said Jason Phillips, creative director. At the market, the company showed its initial framed art items: framed silk kimonos and a composition of thin gold squares strung onto long threads. The company also debuted its licensed line with designer Dann Foley, which included Cracked Eggs, wall decor pieces that looked like cracked eggshells with gold interiors. The Phillips Collection had a few show stoppers as well, including a fiber optic table made of drift wood encased in acrylic. It has controllable LED lights running through the table that flash different colors. Phillips also pointed out a $1,000 silver pig sculpture that was costly due to the materials and labor involved.
Kenroy Home bolstered its outdoor lighting category. One new group consists of solar rechargeable lamps that use a three-LED disc that can be charged by the sun or a transformer that is included. Alternatively, "natural materials have done well over last year," according to Jon King, a sales representative for the company, and several introductions reflect that, such as solar table lamps with rope bases.
Crestwood also went for a natural look, with frames made of wood instead of resin or a poly mix. "We're building more of a story and we brought in the wood to add variety," said Bryan Williams, executive vice president. And while the company does offer transitional and contemporary looks, "traditional is still a big business for us ... We've had a lot of success in that area."
Among the rug introductions at Jaunty was a wool and viscose collection called Tuscany, which had an aged look and received a nice reaction at market, said Kami Navid, executive vice president of sales. "It has a nice perceived value," he said. The company also showed its first flatweave collection, a woven group called Brisbane, which it brought to market because "people wanted something more casual," Navid said. In addition, Jaunty added colors throughout its line, such as navy and neutral to its hemp line; beige, blue and gray to Soho; and four new colors to its all-viscose Huntley group.-Andrea Lillo