Opinions
Blog: Ambiente Takes the Cake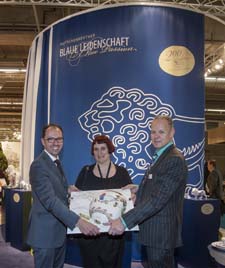 Nicolette Naumann and her team present a cake to Hutschenreuther
FRANKFURT, Germany-Ambiente show owner Messe Frankfurt celebrated longtime anniversaries of several exhibitors with a sweet surprise during the fair, which took place last month.
To mark special anniversaries, Nicolette Naumann, vice president Ambiente, and her team presented representatives of 10 companies with unique cakes, whose designs were inspired by the product lines and corporate brands of the exhibitors.
"Once a year, the whole sector gets together here in Frankfurt and we take advantage of this opportunity to thank our exhibitors for a successful and amiable working relationship with visually appealing and tasty cakes. Behind every anniversary there is a very special and individual corporate history," Naumann said.
Honorees included Alfi (100th anniversary), Ballarini Deutschland (125th anniversary), Boltze Gruppe (50th anniversary), Bredemeijer Group (100 anniversary), Cesky Porcelan (150th anniversary), Wusthof (200th anniversary), ELO-Stahlwaren K. Grunewald & Sohn (80th anniversary), Hutschenreuther (200th anniversary), Rotho Kunststoff (125th anniversary) and Stolze Lausitz (125th anniversary).--Allison Zisko