Opinions
Blog: Chicago, Chicago, It's a Housewares Town
CHICAGO--It's the third day of the International Home & Housewares Show, and it's packed with celebrity chef appearances, educational seminars and, of course, thousands of product introductions.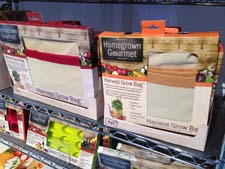 Harvest Grow Bags from Homegrown
Among the show highlights thus far, Bodum is celebrating its 70th anniversary at the show with new colors--pink, yellow, green and blue--on a variety of products, including the Bistro line of small electrics ... Starfrit brought a plaid pattern to housewares with its new Timeless collection, inspired by Burberry. "It's a completely coordinated program," said Juanita Coumbias, international sales and marketing director. The 25 SKUs in the line include items for cooking and baking.
Six years in the making, Curtis Stone's new cutlery collection launched at the show with Roland Products. It's manufactured by Yaxwell, "a huge brand in Japan," said Stone. "They produce brilliant product." The blades have hand hammering so food is less likely to stick, he added. And the handles are made of black Canvas-Micarta, a resin and linen combination.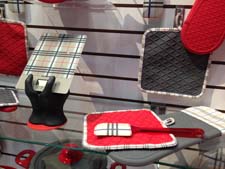 Starfrit's Timeless collection is in a fashionable plaid
Moneual's H67 and H68 robots are being touted as the first to be able to both vacuum and mop ... Butler is launching its Gain brand--under a new partnership with the laundry-care brand's owner, Procter & Gamble--which includes sponges, gloves and laundry-care accessories ... KitchenAid is celebrating its 95th anniversary at the show with new colors and attachments for its iconic Stand Mixer ... EdgeCraft's Ceramic & Steel electric knife sharpener provides multistage sharpening for both types of knives ... Haan's Multiforce Pro steamer features bristles that get work deep into floors for a more thorough cleaning.
Friedrich's AP260 air purifier, with five stages of filtration, marks the company's re-entry into the air-purifier category ... Spectrum Brands spotlighted its rebranding of the Black & Decker brand, with small electrics in bold colors and sleek designs, intended to introduce the brand to a younger audience.
Homegrown, a new brand from Architec, debuted as a resource for products centered around growing, serving and storing homegrown produce. "It's a mix of bringing gardening items to cooks, and gourmet cooking to gardeners," said Susan Yeager, president of parent company Alice Ink.
Celebrating its 20th anniversary, Microplane debuted several new items, including a cube grater, with a compact design that includes three of the company's best selling blades, fine, course and ribbon; an herb and salad chopper that has a retractable blade; and a spiral cutter, which has dual slicing areas to create spiral cuts and ribbons of vegetables.